POSTCARD FROM LEON FULCHER
From Ayrshire
Hello everyone! If our calendar is to be believed, Winter should soon be over and Spring is starting to make itself known. For many this is a particularly welcome prospect, especially if you have had a lot of snow this year! In the West of Scotland we found daffodils, crocuses and snowdrops all making their floral presence known. And just to confirm that a change of season is well on its way, the new lambing season had begun and farmers were engaged enthusiastically in a plowing competition! Sport takes many forms in this part of the world, without a ball or puck!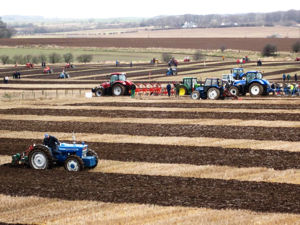 A South Ayrshire ploughing competition!
2009 is the 250th birthday of Robert Burns, Scotland's greatest poet. There is no other literary figure in whose name and on whose birthday each year, thousands of people from across the world sit down and share in a ceremonial meal. When he died in 1796, age 37 and in debt, Robbie was worn out by hard work and illness. But he left behind a literary legacy that is unrivaled. Much of that verse is directly relevant to child and youth care work (so long as you can manage the Scots dialect in which Burns wrote)! For example, a line from To a Mouse reads: "The best-laid schemes o" mice an" men gang aft agley" reminding us that the best care plans often go astray!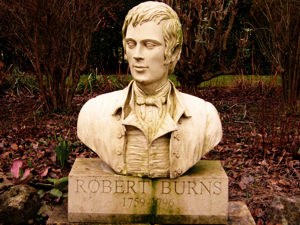 Scotland celebrates Robbie Burns' 250th birthday
Burns was particularly good at telling tales of ghosts and scary characters. The tale of Tam O'Shanter offers many a truth worth considering by child and youth care workers. Before sending happy Tam out into the stormy night on his hair-raising ride on horseback over the Brig o" Doon, Burns offered the following reflections: "But pleasures are like poppies spread: You seize the flower, its bloom is shed; Or like the snow falls in the river, a moment white "then melts forever". Think of the frequently shared special moments in our work that can only be experienced, not captured!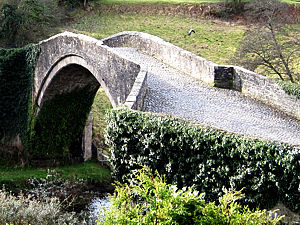 Tam o'Shanter's Brig o' Doon
Wandering through old Alloway Kirk yard with its centuries worth of memories scattered in all directions, I was particularly taken by the monument that one father had created in memory of his children, Agnes H. who died in 1866 (during the US Civil War), aged 3 years; George H. who died in 1873, also aged 3 years; and Agnes G. who also died in 1873, aged 1 year. And to think: Robert Burns wrote all he left behind by the age of 37! In his Epigram on Parting with a Kind Host in the Highlands, Burns wrote: "When death's dark stream I ferry o–er "a time that surely shall come. In Heaven itself I–ll ask no more than just a Highland welcome!" Those who work with children or young people facing death or bereavement will find that Burns" verses offer glimpses of hope and opportunity in the face of darkness and fear.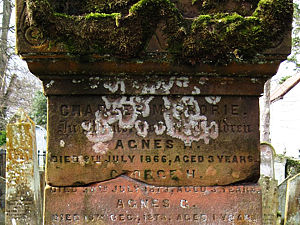 A father's monument in memory of his children
Filled with reflections of days gone by, I could not help but notice the work of a new generation of Scottish artisans who left their graffiti is a discreet yet public place amidst the Scottish Heritage site of Alloway. It reminded me of the lines Burns wrote in To A Louse (On seeing one on a Lady's Bonnet at Church) which ends: "O wad some Power the giftie gie us to see oursels as ithers see us! It wad frae monie a blunder free us, an" foolish notion: what airs in dress an" gait wad lea–e us, an" ev–n devotion"! What a powerful gift we give each time a young person is helped learn to see themselves as others see them, or for that matter, when we see ourselves as others see us! Add Burns to your reading list this year! Much more useful than DSM-IV!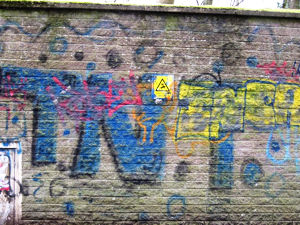 The sonnets of a contemporary Scottish bard