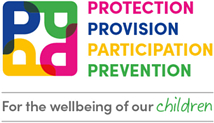 CYC-Net is delighted to partner with our colleagues at the Institute for Inspiring Children's Futures, University of Strathclyde, and with a range of other international partners, to help develop the COVID-19 4P Log – a smartphone App created especially for practitioners and policy makers who are working to support children's wellbeing, to log their lived reality and experiences throughout this pandemic.

It is designed to help us to better understand the ways practitioners and policy makers protect children, provide for their unique needs, enable their participation in decisions that affect them, and prevent harm, at different stages of the current pandemic.

The COVID-19 4P Log will ask you one question a day about your experiences of working during the pandemic and will take up no more than two minutes of each day, for 8 weeks.

The experiences that you log in the App daily will inform regular Learning Reports, which will outline the emerging themes, to equip all of us with insights and evidence to help us to identify good practices and overcome the challenges in future stages of this pandemic, and in the event of future pandemics.

It will not ask you for any personal or identifiable information and the responses will be anonymous. It will function using Wi-Fi and not require data usage. All collected data will be stored and used in accordance with data protection laws.

The App will be available to download on iTunes and Google Play free of charge from mid-July.
Watch this space for more announcements. We encourage everyone to take part!