POSTCARD FROM LEON FULCHER
From Bloemfontein, South Africa
Hallo! Molweni! Greetings from a cold South African Free State where Iíve joined some 900 other child and youth care workers for the 17th Biennial Conference of the National Association of Child Care Workers of South Africa! 123 young people are also here, from all nine regions of South Africa, participating in a parallel youth conference. They joined the main conference for the Grand Opening, and for presentations to a Government Minister on implementing the new Children's Act.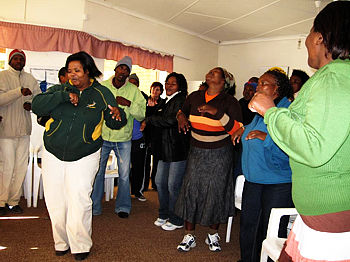 King Williams Town Children's Home and Isibindi team
On the way to Bloemfontein, we stopped off for a meeting with child and youth care workers at King Williams Town Children's Home. Staff from the children's home as well as from the local Isibindi Project gathered to exchange ideas about child and youth care practice. It was there that I was introduced to the song and the writer of the song ďMy Mother, was a kitchen girl; My Father, was a garden boy; Thatís why, Iím a child and youth care worker.Ē This song was sung in rounds, and in harmony throughout the conference. It was amazing! Thank you KWT cyc workers!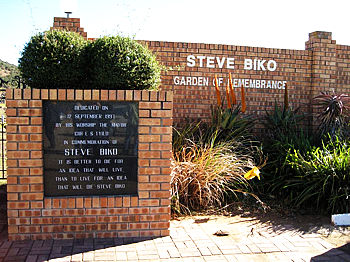 The Steve Biko Wall of Remembrance
The King Williams Town Child and Youth Care Workers took me to visit the Steve Biko Wall of Remembrance, and the gravesite of this important South African youth activist killed during the apartheid era. The Steve Biko story is told in a film called Cry Freedom in case you want to learn more about the life and death of this important South African youth worker who was engaged in the anti-apartheid struggle. This first visit to a South African cemetery gave early introduction to the way that graveyards have a prominent place in and around every South African village, shantytown and community. HIV/AIDS is the challenge now facing South Africa!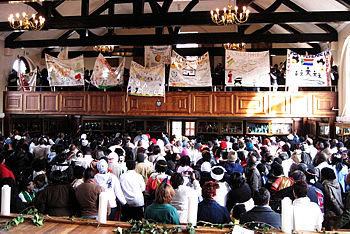 Welcome to the 17 Biennial NACCW Conference!
Delegates attending the 17th Biennial NACCW Conference at Bloemfontein were welcomed to Grey College where nearly a thousand gathered for the Grand Opening. Youth delegates prepared banners from their region of the country, their art work seeking to communicate something of their distinctive region and peoples. The youths included people with disabilities, some requiring wheelchairs and others with helpers, and from every culture of the South Africa. Without warning, conference delegates would stand and began singing and dancing. Such fun and such memories!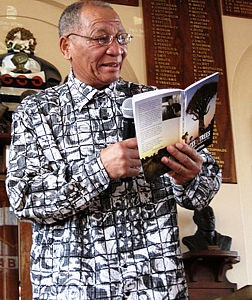 NACCW Patron Don Mattera reads from Faces of Trees
It was a special treat meeting NACCW Patron Don Mattera, celebrated journalist, editor, writer and poet. Patron Don spoke to the hearts of young people attending the opening session of conference, challenging them to face up to HIV/AIDS. Patron Don told of how his own daughter had been raped by a policeman and contracted HIV/AIDS, then died after contracting a TB infection while visiting a friend in hospital. Rarely have I heard someone connecting with young people the way Don Mattera did that day in Bloemfontein. He challenged every young person to make critical life decisions and never, ever think they are invincible. Thanks Don for the signed copy of Faces of Trees: Poems of Struggle, Freedom and Kin. I love it!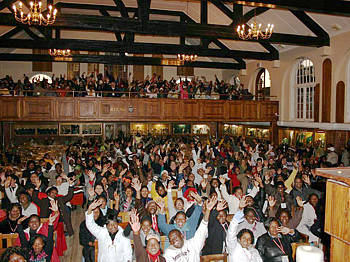 A NACCW Bloemfontein Conference Wave!
So many good memories! If you ever get the chance to attend one of the biennial South African child and youth care conferences, take up the opportunity. These are truly special! Put South Africa in your diary for December, 2010 when the FICE Conference will be held in Africa for the very first time! Start planning for it!