POSTCARD FROM LEON FULCHER
From Muscat
As'salaamu alaikum Comrades. I gathered the material for this Postcard during a brief visit to the Capital City of the Sultanate of Oman. We visited during the second half of the Holy Month of Ramadan. Iftar feasts were popular events. Our visit to Muscat was planned for respite care after 9 weeks of live-in caring for a 97 year-old woman with dementia. Sunshine (yes), warmth (45C) and reading books by a swimming pool featured prominently for a couple of days. Oh, and swimming!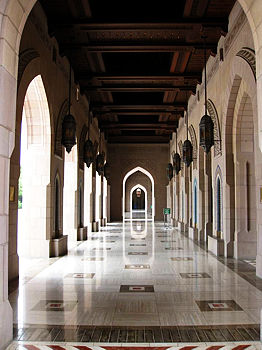 The Grand Mosque – Muscat
A tour of the Grand Mosque north of Muscat was a moving and memorable experience. Thousands (of men) gather there, arm to arm on their knees before Allah each Friday. The car parks are filled to overflowing. Dress codes for both men and women visiting this mosque between 8-11 am each morning (except Friday) reminded me of issues associated with cultural safety and security. Modesty is a principle that is practised around Muscat's Grand Mosque. Would you know what is required in the dress code for visiting an important mosque, church, temple or synagogue?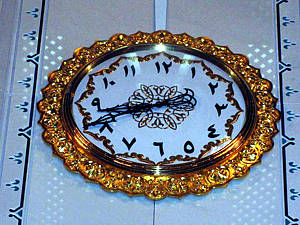 Time takes on new meanings in Arabia
The Arabic Clock monitored by the Imam conducting Friday Services at the Grand Mosque made me stop and think about timetables and how time often holds different meanings with different people. This Grand Mosque clock is numbered in Arabic script but keeps time like Western clocks. It shows the photo was taken at 8:40 am.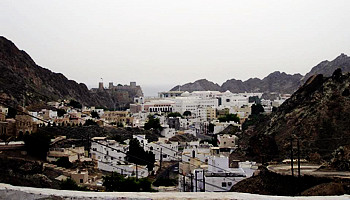 Muscat of many harbours
Most of our time in Muscat was centred around one particular harbour and beach. A place like Muscat has many small coves created from the steep mountains that drop down towards the sea from central Oman. The old city of Muscat is different from the Souk or craft shops elsewhere in a string of shopping precincts. A new international airport will shortly open Muscat even more directly to the world.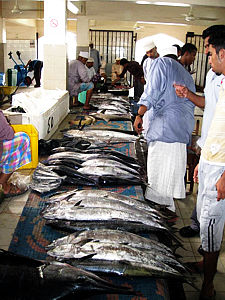 Muscat fish market
A visit to the local fish market showcased a variety of fish and seafood, as well as the rich tapestry of Omani life. Fishing is an important part of Omani life and vast fishing reserves are maintained along the whole of the Omani coastline, from the Strait of Hormuz to the Somali coasts of Africa. That's where the pirates operate, and fishing has been given over to high-jacking super tankers and demanding huge ransoms for their return. The half-dozen or so blue marlin or swordfish caught my attentions, as did the king fish, the tuna and other large fish on sale there. A moray eel was also notable amongst the fisheries on sale. Next to the fish market was a fruit and veg market with anything one might want, from dried herbs to fresh grown produce.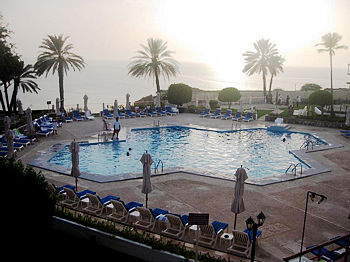 Respite care venue
Most of my time was spent lying under an umbrella by a swimming pool, reading Steig Larson's Millennium Trilogy! What a grand read it is! The Girl with the Dragon Tattoo will engage you in a mighty fine read, through all three volumes. What a tragedy that this fine author died before any of his 3 Millennium novels were published and released. A terrific writer and literary work to take on a respite holiday in the sunshine. When it gets too hot, a swim in the pool cools ya right down.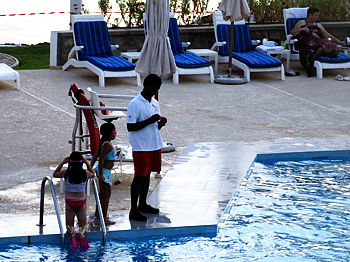 Water games
Water games retrieving an item from the bottom of the pool were popular pastimes.