Postcard from leon fulcher
From Dublin
'Cead mile failte" (a hundred thousand welcomes) to everyone from Dublin, host city for the this year's World Conference of IFCO "the International Foster Care Organisation "which gathers foster carers and those interested in foster care together from around the world. Developed around the theme of Linking Global Foster Care, this year's conference was a sell out!
Irish young people welcome IFCO delegates with harps
Delegates from all the continents were welcomed to Dublin with a flag ceremony drummed in with traditional Irish flare. Later at the Welcome Reception, music was provided by young people playing traditional Irish harps. Young fingers moved gracefully, purposefully and in unison across the strings of their harps. The collective outcome was breath-taking. It was pleasing to see and hear cultural practices around the Irish harp being sustained through children and young people.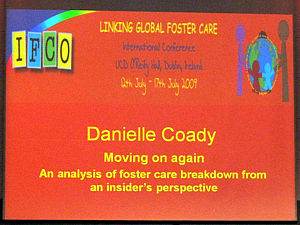 Plenary Speaker Danielle Coady – Moving on again
The first major Plenary Speaker was Danielle Coady, a young person who is carrying out research into foster care breakdowns from an "insider's perspective". Danielle shared excerpts from her own personal story as a foster child and then young person. Between the ages of 11 and 18, Danielle lived in six different foster families. She spoke of how placement breakdowns represent important episodes in the lives of young people in care. Danielle is now completing her Master's degree at the Waterford Institute of Technology, one of Ireland's strategic tertiary institutions where child and youth care work is taught and research opportunities are many.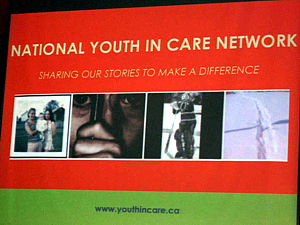 Canada's National Youth in Care Network
Another impressive plenary was provided by three young people from Canada's National Youth in Care Network. These young women shared personal stories using mixed media videos they produced, using still photos, music, imagery and video to share something of how their lives have transitioned through care. I can highly recommend this group who can be accessed at www.youthincare.ca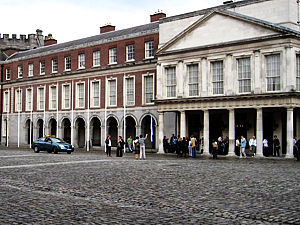 Ministerial reception at Dublin Castle
One does not visit an important European centre such as Dublin without having opportunity to visit some of the sights. Conference delegates were hosted by a Deputy Minister of the Irish Government with a Welcome Reception at Dublin Castle. What a beautiful place! If you ever get the chance to visit Ireland, be sure and do the major tour sights of Dublin. These are well worth the effort! The conference programme offered a wide range of Workshop Sessions. But of course, the networking and conversations that ran alongside an international conference such as this were terrific!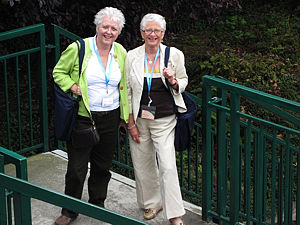 Estella Abraham and Jan Rees – Key figures in UK fostering
It was especially pleasing to spend time with Estella Abraham and Jan Rees "amongst others "from the Foster Care Associates Group offering independent foster care services throughout the UK, Ireland, Australia, New Zealand and Canada. With their motto Quality Care in a Family Setting, Jan Rees (a former foster carer) and her husband Jim Cockburn (a former social worker) have established a truly child-centred service. Estella and Jan gave a multi-media IFCO presentation which gave voice to foster carers working in different parts of the world "all of whom seek to provide quality care in their family setting. Foster care is a BIG part of child and youth care.
Thanks Danielle for helping us all think more carefully about foster care breakdowns!