POSTCARD FROM LEON FULCHER
From Bangkok
"Sawadee" (Sa-wa-dee) – Hello everyone from Bangkok! I recently had opportunity for a brief stopover here during my travels from Scotland to New Zealand. It was my first visit to Bangkok and I'm pretty sure I'll be back! What an interesting place!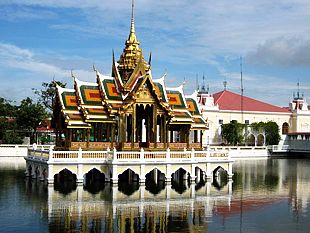 Royal place for rest and reflection
I confess to having been a little apprehensive about this visit. During the past year there has been considerable political turmoil in a country where the King is deeply revered. In recent years, Thai politics have revolved around supporters with Red Flags and others with Yellow Flags. Last year, the Red Flags closed the international airport and helped bring down the government, leading to a military coup. Earlier this year, the Yellow Flags took over the airport and Bangkok city for nearly 3 weeks. Their protests were called off, just as the military were preparing to quell the rebellion. CYC workers might reflect on how the major supporters in both these Red and Yellow Flag protests were young people "teenagers and late teenagers like those with whom we work! It is also worth noting that both events were essentially peaceful protests that resulted in political change. One might even be tempted to claim that Thai young people are at the forefront of social, political and economic change in their country. With his holiness the King now in his late 80s and said to be increasingly frail, we–ve not heard the end of political and social change in Thailand.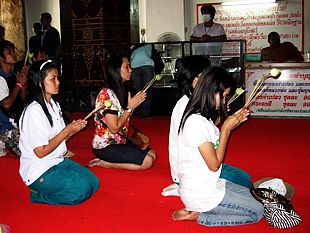 Thai young people engaged in Buddhist religious practices
We booked a river cruise and tour of historic sites along the Chao Phraya River, upstream from Bangkok. The tour included a visit to several Buddhist temples and temple ruins. Thailand's long Western border with Burma (now Myanmar), a country long ruled by military Generals, meant that over the years there were many battles between Burma and Thailand. After one period of warfare, the triumphant Burmese removed the heads of all Buddha statues. When one thinks that the pathway to nirvana is sought through reflection in the manner taught by the Buddha, then removal of Buddha heads stripped Thai people of opportunities for spiritual, social and mental liberation. For a time, they were a subjugated people. In this area of significant Buddhist influence, there are temples modelled in the Thai and Cambodian traditions, as well as Burmese traditions. Indian and Chinese influences were also ever present.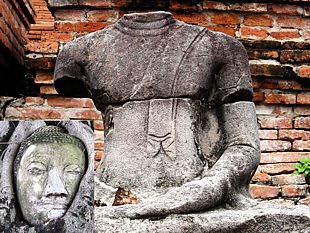 Soldiers from Burma (Myanmar) removed all Buddha Heads
A very large Buddha, lying in repose (and very much with head!) gave us all pause for thought and reflection. Side by side, this Buddha's feet were more than twice the size of an ordinary adult. The Buddha in Repose would take up most of a football pitch! It will have involved hundreds of workers to construct and taken years to complete. I doubt the Burmese soldiers could work out how to remove the head of this Buddha!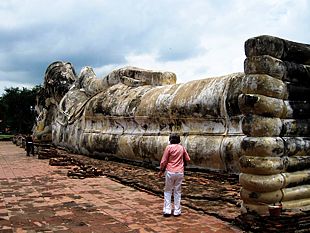 Large Buddha in Repose
Thai children and young people are everywhere, especially seen riding with their parents 4 to a motorbike! A young mother selling souvenirs near the large Buddha in Repose gave permission for me to photograph her sleeping child whose father lay in a hammock nearby, holding a rope to swing the child's hammock as required to help her sleep. I thought of how CYC workers are similarly connected with the young people with whom we work, perhaps not with a rope but special bonds nevertheless.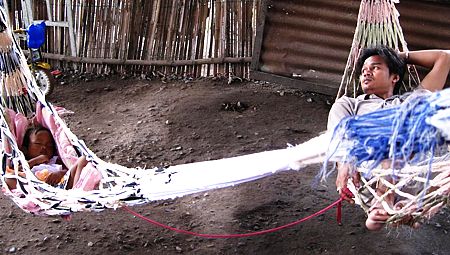 Child care duty at nap time!
Look through your own pics! Can you share any illustrating this bond of connection that forms between a CYC Worker and a child or young person in care? Lao jer gun!