POSTCARD FROM LEON FULCHER
From the Cinque Terre
Buon giorno (bwon jorno) from the Cinque Terre (pronounced CHEEN-kweh TEHR-reh), a rugged portion of coast on the Mediterranean Riviera in the Liguria region of Italy comprising five villages: "The Five Lands": Monterosso al Mare, Vernazza, Corniglia, Manarola and Riomaggiore dating from the 7th Century. The coastline, the five villages, and the surrounding hillsides are all part of the Cinque Terre national park, now a UNESCO World Heritage Site.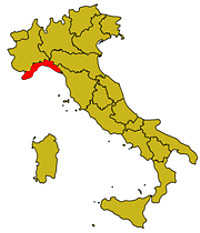 Italy's Liguria region – a site of historical significance
The Cinque Terre is located in a naturally rugged, hilly territory into which terraces have been hewn by hand over the years for vineyards and crops that reach from the seafront all the way to top of the steep slopes overlooking the Mediterranean. A walking trail connects the five villages. The path from Riomaggiore to Manarola is called the Via Dell'Amore (roughly, "Lovers Walk") and varies in difficulty from an easy stroll to a rough and physically challenging hike. The stretch from Manarola westward is easy to hike, finishing with a climb of 368 steps into Corniglia. The trail from Corniglia to Vernazza is steep, and from Vernazza to Monterosso by far the steepest. This takes one through olive orchards and vineyards, but offers the best view of the bay and spectacular approaches to both Monterosso and Vernazza.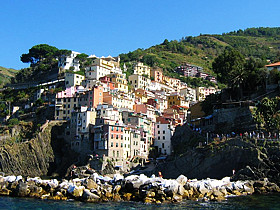 13th century Riomaggiore known for its terraced vineyards!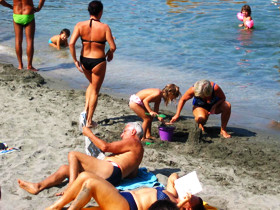 Building sand castles while celebrating sunshine and sea
Throughout our stay, we watched squads of young people making their way up the steep hillside each day, working the entire day repairing tracks, preserving terraces and replanting vines in the historic traditions of their ancestors. While local youths spent their days working energetically along the hillsides, the seaside was filled with children, young people, adults and elders soaking in the sunshine, building sand castles of elaborate standards, swimming and generally doing what tourists do when given opportunity to visit beautiful places with predictable sunshine and warmth.
Trenitalia operates an amazingly punctual regional train service that stops in each of the Cinque Terre villages as it travels along the coastline. It was interesting to note how local youths had tagged these trains with elaborate graffiti. We found ourselves chuckling at how youthful ingenuity had created such distinctive artwork. Spectacular graffiti stood out alongside commercial advertising, with different trains tagged by local village gangs, celebrating a youthful presence never far away.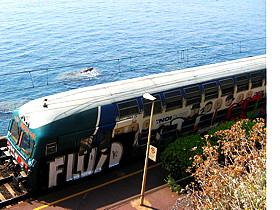 Treni Regionale tagged by a youthful presence
We hadn't expected to see so many North American visitors during our stay in the Cinque Terre. College and university students were there in numbers, allegedly studying classical traditions of art, architecture and geography of the region. It was clear, however, that youthful visitors were thoroughly enjoying themselves with more young people here than at any of our other Italian destinations. What an interesting form of educational tourism! It reminded me of CYC-Net discussion list themes with students asking about exchange opportunities and international placements.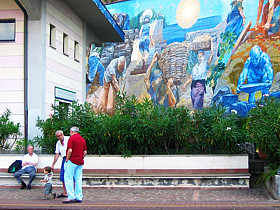 A determined youngster on the move in spite of his carer's wishes
If CYC students are willing to volunteer, move outside their comfort zones and get stuck in with kids in different parts of the world, there are rich learning opportunities! Don't go with the expectation of getting paid though. That comes later. Just enjoy!