POSTCARD FROM LEON FULCHER
From New Zealand
Gi'daye! I've just finished a month of family time in New Zealand. I am writing on the same day that a Tsunami Alert has been operating all around New Zealand coastline, and elsewhere in the Pacific after the huge earthquake in Chile. As I write, the words of Henry Maier echo in my ears "maintain a child and youth care focus in your CYC-Online writing! It would be so easy to bore you with family pictures and tales! At the end of month of family time we were camping at Lake Waikaremoana in New Zealand's Te Urewera National Park. Whilst fishing there, I found myself thinking about what constitutes full professional standing for CYC workers?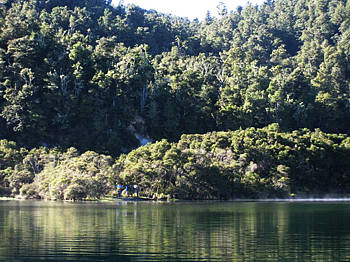 Lake Waikaremoana camp site
My whole career has involved the professional education and training of social workers, accreditation of qualifying training, and professional registration of social workers in different countries. As Acting University Head of Nursing and Midwifery, I learned about standards required for professional registration in those career pathways. And as an allied health professional, I worked alongside medical doctors and nurses. The Fulcher family wedding provided further stimuli for reflection.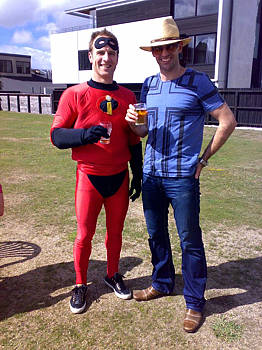 Mr Incredible and best man
I got to thinking about medical education and training through my relationship with 34 year-old son Mark, and his new partner Helen "both 2002 graduates of Auckland Medical School. For eight years, both have been completing the apprenticeship components "working under supervision "required for full professional qualifications as medical doctors. Helen just completed her General Practice registration needed to work at a Family Medical Clinic. Mark continues preparing for final exams needed for full professional registration as a Sports Medicine Consultant. Professional recognition comes after 14 years of study, exams and practice scrutiny!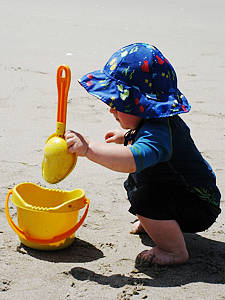 Beachcomber Jacob
Comparisons with the professional recognition and training for child and youth care workers are massive. Around the wedding, we spent time with a generation of New Zealand medical doctors and partners of medical doctors "with or near professional qualifications as radiologists, anaesthesiologists, medical or orthopaedic surgeons, paediatricians, General Practitioners, Sports Medicine consultants and a psychiatrist. Full professional registration in their specialist fields of medicine has involved 12-14 years of professional education, rigorous scrutiny and in-service apprenticeships.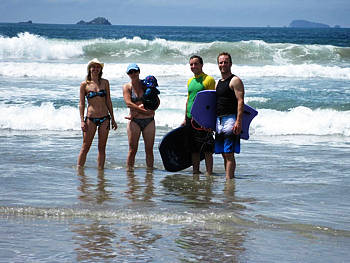 A family at play
In that time, a child the age of my grandson Jacob would turn into a fully-fledged teenager! If 7 years represent an important stage in child and adolescent development, it follows that during their professional qualifying training "requiring gruelling examinations at regular intervals "a medical specialist lives through two developmental life stages as adults. They must postpone or juggle rituals such as marriage and family. Child and youth care workers, by contrast, accept occupational standing as para-professionals who supply or support out-of-home care that nobody else provides. CYC workers, especially foster carers, still need continuing professional education and training which they complete alongside their work!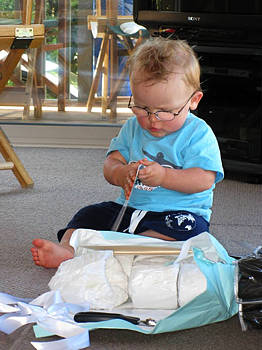 Imaginative play
I conclude that different professional career pathways are still worth noting. There is also a need for competency-based learning and training opportunities for CYC workers. Is there a CYC-Net Discussion List for Educators? Is it time to have one?