POSTCARD FROM LEON FULCHER
From Florida
Ola! Warm greetings from Ft Lauderdale, site of the 9th International Child and Youth Care conference. US and Canadian child and youth care workers were joined by a few colleagues from Europe and elsewhere to examine a Global Warning that children, young people and families matter. The world economic crisis undoubtedly impacted on the number of delegates who attended this conference but thanks to the efforts of many, a successful event was achieved.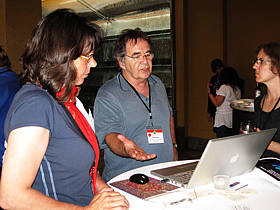 A successful CYC-Net and Learning Zone Reception
Drs Varda Feder-Mann and Carol Stuart – with the help of others – helped organise a successful day for child and youth care educators and trainers at the start of the conference. CYC-Net and the Learning Zone supported the educators" and trainers" event with an opening reception offering opportunities for informal professional dialogue while delegates sheltered from the tropical afternoon rains that frequented Ft Lauderdale throughout the week.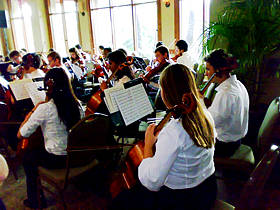 A Florida Youth Orchestra helped to launch the conference
A Florida Youth Orchestra helped to launch the formal conference with their spell-binding performances of several classical pieces. It was fun watching these young people perform to a very high standard and to see their responses to a grateful audience of child and youth care workers. Dr Michael told them how he thought they were world class! We thought they did a terrific job.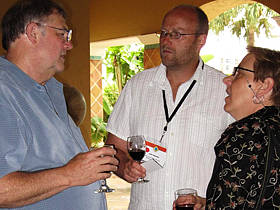 Conference provided many opportunities for professional dialogue
The conference programme offered multiple opportunities for learning exchanges, although the tropical rain storms flooded some of the workshop venues necessitating flexibility on the part of delegates and presenters alike. In the true spirit of child and youth care practice, adaptability required that adjustments be made. Thanks to Juan, Margaret, Black Tie and others of the planning team, the show carried on.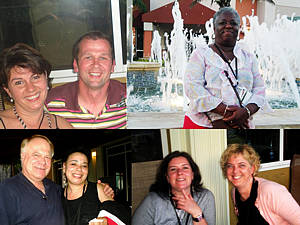 Representing the "I" at the 9th ICCYC!
It was disappointing to find such a small number of international delegates at this 9th International Child and Youth Care Conference. Child and youth care workers in North America rarely get the chance to experience a truly international event where they can exchange experiences with practitioners from South America, Europe, the Middle East (as well as Israel), Africa and Asia. Those planning for the 10th International Child and Youth Care Conference at Nanaimo, British Columbia in 2012 will face major challenges to make that event more than a gathering of Canadians and Americans. Nanaimo offers a beautiful venue. However, world travellers are already saying "How do you get to Nanaimo" cheaply? Conference planners will need to be thinking actively beyond their Vancouver Island and Western Canadian mindset if that conference is to achieve the bold aims set by its organisers. I hope they will offer registration discounts for prospective delegates from Latin or South America, Africa, Asia and Palestine so as to make it a truly "international" event.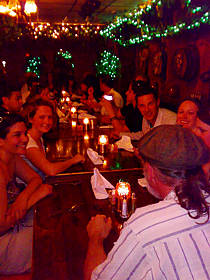 Gracias to Justin & the Don Arturo Restaurante for our closing event
Finally, special thanks goes to Juan and Margaret for helping us find the Don Arturo Restaurante, that salubrious eatery offering specialist Spanish and Cuban cuisine, where Justin and his team of cooks, helpers and family members demonstrated that most basic principle of child and youth care – responding to the moment when an impromptu gathering of 80+ arrived without warning! Have an abundant day folks!