practice
Postcard from New Zealand
Leon Fulcher
Kia ora everyone! While most of you snuggle for warmth in a cold, snowy Northern Hemisphere world, spare a thought for those of us having to work in New Zealand in that great Southern Hemisphere summer where one can celebrate of Hanukkah, Eid, Christmas, New Year and Summer holidays at the same time! Somebody has to do it!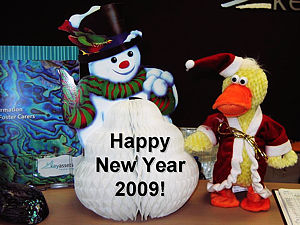 Quackie & the Snowman at Key Assets Fostering say Happy New Year!

Happy New Year from Quackie & the Snowman, as well as everybody else at Key Assets Fostering New Zealand this holiday season! We tried to get involved with the cross-climate traditions of Christmas, gave Quackie a Santa suit and had a shared staff lunch before the holiday break. On this Scottish Hogmanay (New Year's Eve to the rest of you), from all of us here at Key Assets Fostering New Zealand "" We hope you have a Happy 2009 "the New Chinese Year of the Ox! May you and your families find patience and blessings! Let's try to be a blessing to someone this year!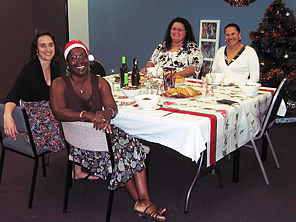 Key Assets New Zealand Staff Lunch

Good fortune allowed me to spend Christmas and Boxing Day in a 3 generation family with 2 young children. What a treat that was for a novice grandfather like me! As I do when around children, I was mesmerised watching Boogie Man (it said so on his pyjama top!) "nearing age 2 "and his interactions with family members "father, mother, grandfather, grandmother, auntie, uncle, his new 5 week old younger brother, and me "the old fella who slept in the tent! One thing Boogie Man made me think about had to do with cross-cultural celebrations and the way Santa can now be found as frequently in the shopping centres of Islamic countries of the Middle East or China, just as he does in Western countries. Boogie Man hadn't learned about waking up early on Christmas morning. I bet he'll have that worked out by next Christmas!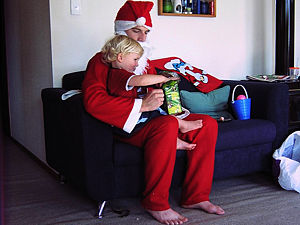 Cross-Cultural Encounters with Santa

Because of all that goes on around the arrival of a second child and the settling in of a baby brother to the social world of a 22 month-old little boy, the effects of transition were often observable. Father had become all important! Fathers frequently take on new child care roles around bath time, reading at bedtime and early wake-up duties while mothers attend to the new baby. Another primary carer attends to Boogie Man! When it works "as it did in this family "one can see how young children thrive, string words together and acquire language! It also made me think about the plight of young mothers caring for 2 or 3 young children on their own without support.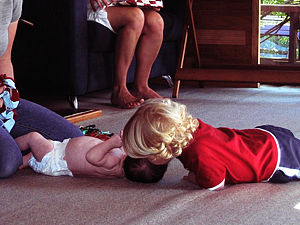 Transitions for a 2-year-old with arrival of a baby brother!

Boogie Man also made me think about another feature that is common at his age "the pushes and pulls between curiosity and fear/anxiety. It took awhile before this little boy was comfortable sitting on Santa's knee. Who is this unfamiliar person? What strange cultural learning is being passed on from one generation to another here? Or is this someone Boogie Man knows dressed in an unfamiliar costume! Yes Henry, it made me think of those myriad of roles that adults can potentially play in children's lives "parents, grandparents, extended family members, neighbours, friends, their families, playschool, soon primary education. Children achieve and acquire such important developmental assets living safely around adults who nurture pro-social and culturally defined behaviours with children like Boogie Man and his brother. You take care, eh? Thanks Boogie Man for sharing your family time with me! I loved it!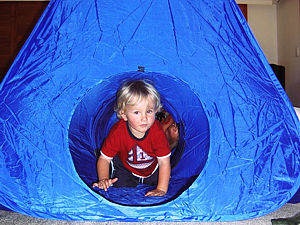 A New Generation "Ready to explore the world!


leon@cyc-net.org