STREET CHILDREN
Emerging street children in Papua New Guinea
Garry Sali
Consistent with the United Nations Children's Fund (UNICEF) definition of children, the Papua New Guinea government has legally defined children as those under the 18 years of age. Thus, street children in the Papua New Guinea context are those boys and girls under the 18 years of age for whom "the street" has become their home and/or source of livelihood.
The street children in Papua New Guinea may be grouped into four categories:
(1) children who join their friends on the streets during daytime and return home;
(2) children who work on the streets and return home;
(3) children who work and live on the streets;
(4) sex workers (young girls engaged in prostitution).
Most children on the street, however, are those engaged in some kind of economic activity ranging from begging to petty theft and prostitution.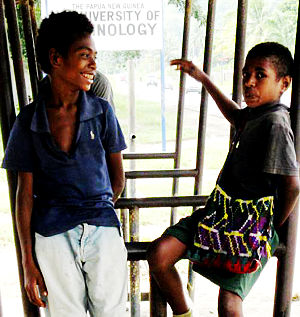 Two young street children sharing jokes at the main entrance of the PNG University of Technology in Lae.
The phenomenon of street children is an emerging social issue in Papua New Guinea. It is more prevalent in the country's two cities – Port Moresby and Lae – and in the major towns like Mount Hagen, Goroka and Madang. While walking through the shopping centres in Port Moresby and Lae, one might easily see children as young as 7 and 8 years of age either begging or vending or just simply wandering around aimlessly during school hours. One wonders what the future holds for these young children and what does it mean for the nation as a whole?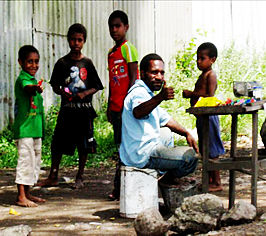 These children on the right seem to smile, be healthy, and have some good clothes; the question is, what are they doing during school hours?
The children usually end up in the streets because of domestic violence, all forms of abuse, family breakdown, orphanhood due to death of biological parent(s), parental unemployment, peer influence/pressure, and other psychological and personal factors. Although, they are psychologically "down", they seem to enjoy what they are doing in the streets. At times, the street children are verbally and physically abused by police, city commission workers and the general public. In fact, life is hard for them but they have to continue their daily routines for survival. Sometimes, poor families force their children to become street workers to earn something.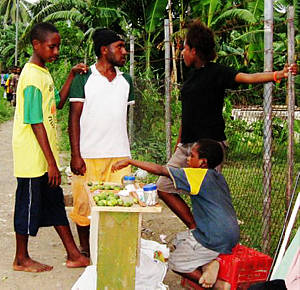 The young boy, who is sitting down, is selling betel nut to his friends who may be street children as well.
A few church and non-governmental organizations like the Port Moresby Foursquare and the Port Moresby City Mission have provided some hope for the street children by providing food and giving them necessary technical skills in agricultural, mechanical, and other areas. The national government through its department of community development has not addressed the issue in any tangible way. Clearly, there is a need for some kind of policy and action plan for the street children in PNG. To ignore them and do nothing is to ignore the children of PNG who have a claim to education, food, clothes, shelter, freedom and security.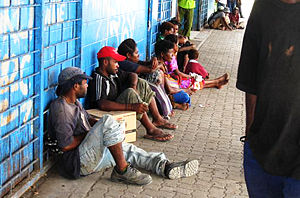 This picture shows young street venters selling cigarettes and betel nut at top-town, Lae. Interestingly, what they sell is concealed inside their bags to avoid being confiscated by police and city commission workers.
What does the future hold for current street children in Papua New Guinea? Will they be just street children who will be begging, selling and involved in petty crimes? They are certainly a threat to the nation. When the street children realise that they do not have any means/source of livelihood, the only available alternative is to be involved in major criminal activities like bank robberies to survive. In fact, it has been reported that some of the major crimes committed in the country are by young people were once street children.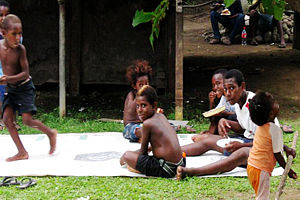 The picture on the left shows some children from the settlement in East Taraka, Lae, who are fed by a church organization.