POSTCARD FROM LEON FULCHER
From New Zealand
Hi everybody! Springtime in New Zealand was great and it was great to be back home! Out of everything that got crammed in to a busy visit, the 1st Birthday celebrations with Key Assets Fostering in South Auckland were a real highlight.
Key Assets Fostering first birthday party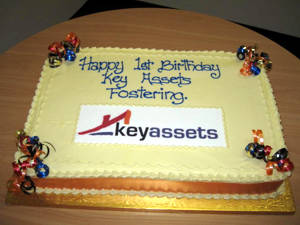 National Foster Care Week at the start of November involves activities in different parts of the country but things rocked in Manukau City! Several activities were organised, including carers, staff and young people running (and walking) in the Auckland Marathon, an all-day tea party with pampering station, lunchbox training and an International Dinner celebrating Foster Care! Alas, the BBQ was rained out.
The All-Day Pampering Station offered massage and eyebrow tinting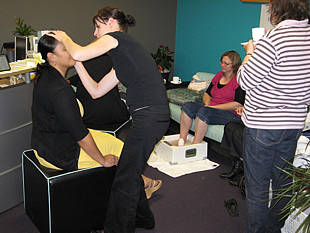 All who attended the Tea Party – carers, social workers, friends, family members, as well as children and young people were offered a first class programme. Our old friend Henry Maier would have been thrilled to see the All-Day Pampering Station offering Care for the Caregivers with 20-minute neck, shoulder, foot and hand massages as well as eyebrow tinting for anyone interested. An LSG Skychefs Chef provided a most interesting hands-on training demonstration about what to put in a lunchbox. Everyone enjoyed Binu's presentation and relished the opportunity to sample his recommended lunchbox offerings. The key message is that lunchbox food needn't be boring, nor need it be expensive! And lots of opportunity for talking.
Airline chef Binu Krishnan offering lunchbox tips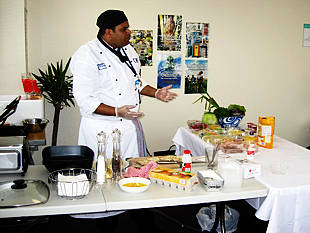 The premiere event of the week had to be the International Night Dress-Up Dinner. Building on the many cultures represented within the Key Assets Fostering Family, it was a natural that an international theme be adopted for our flash dinner. Everyone was encouraged to come in national or other dress-up gear. Everyone followed the Kiwi tradition of "bringing a plate" (with a national dish on it!), and what a dinner it was! The food was followed by a series of performances by young people, carers and staff. Few will forget the Scotsman who had to hold up his hired kilt while dancing nor young Tutanekai the Warrior of Rotorua folklore dressed in full Maori costume. Several of the Pacific Islands were represented, as were the good old Kiwi farming types in Wellie boots and rural gear. The Samoan dance involving Key Assets staff and family members was a very special treat! It was a terrific way of bringing New Zealand Foster Care Week to a close.
International Night Dress-up Dinner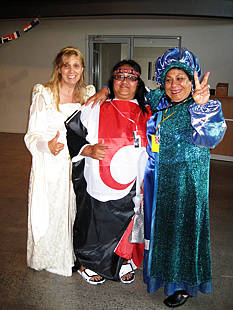 Another lasting memory is worth sharing from National Foster Care Week was the placing of our new Key Assets Fostering Kaitiaki. This Kaitiaki (or Guardian) carved from Oamaru stone was given the name Te He Mauri Ora (we celebrate the breath of life) by Tuhoe Master Carver Pari Winitana. The carving builds around the theme of re-birth and regeneration, and was carved at a time when the carver was working largely from touch and with only a distorted image of how the carving was "becoming". Just weeks before I met Master Carver Pari, he had cataracts removed from both eyes! Only then was he able to give this carving its name.
The Key Assets Fostering Kaitiaki – Te He Mauri Ora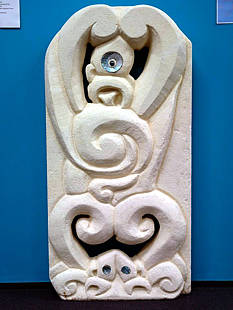 I find the story of this Kaitiaki very special in the way that it symbolises the work that foster carers do in helping children and young people experience regeneration and working with birth families, helping children achieve developmental outcomes that make a difference in their lives. Thanks Pari and thanks Foster Carers – everywhere!