POSTCARD FROM LEON FULCHER
From Wellington
Good grief, here it is the end of another year! Warm greetings from New Zealand! The month started here with National Foster Care Week and Day Conferences on the theme of Fostering a New Conversation held in Wellington and Auckland. During the middle of National Foster Care week, Barack Obama was elected America's new President and at the end of Foster Care Week, New Zealand elected a Centre Right Coalition Government led by Prime Minister John Key. Who? Think "Key to our future!" and remember New Zealand's Prime Minister, he said hopefully! In November, world leaders have been preoccupied with the world's economy!
Ex Contubernio Robur "Strength comes from living together in diversity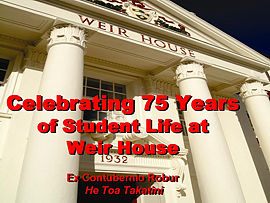 A second reason for being in Wellington involved the 75th Jubilee Celebrations for Weir House, a residential college built for Victoria University through the munificence of a bachelor Scotsman who did well in the New Zealand timber trade. Nearly 300 former Weir House residents – Professors, Researchers, Solicitors, Judges, Retired Judges, Ambassadors, MPs, Ministers and Prime Minister, civil servants, private sector professionals, parents, grandparents – distinguished Weir House alumni attended a sit down dinner at The Museum of New Zealand – Te Papa Tongawera. We toasted the Queen, William Weir, James Hutchison, and old Weir man Alan McDiarmid, Weir House Boiler Stoker and Nobel Prize Winner for Chemistry in 2000!
Promoting a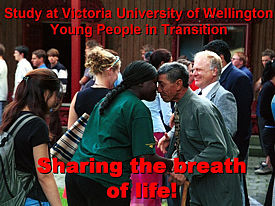 life space that facilitates 168 hour learning
Any college or university residence, hostel, or residential college shares many characteristics with child and youth care residences located throughout the world. The mission or mandate is different – to support opportunities for higher education – so the clientele are admittedly a selective sample of the population. Few stop to think, however, of how the typical full-time 17-18 year-old under-graduate in residence spends roughly 15 hours per week in a classroom. The other 153 hours of the week constitutes residence life or the life space of residential youth care.
Benchmarking residence satisfaction through quality food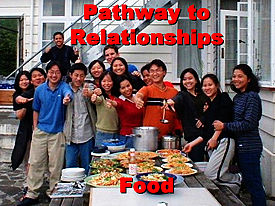 Like other child and youth care residences, First Year Halls of Residence must pay considerable attention to providing a quality food service. The axiom that the way to a teenager's heart is through their stomach has been borne out across 75 years of practice wisdom at Weir House in Wellington. Very old men and women (spouses), middle-aged men and women (some former residents), and younger men and women (all former residents) profiled the demographics of those who attended the Diamond Jubilee event. Conversations flowed all weekend. It was fun watching a former Prime Minister interact with his old room-mate. Oh yeah, a bit like being on holiday!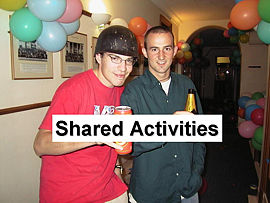 Opportunities for shared activities another important benchmark
It was also fun getting insider information about "highjinks" that have since become legend. The day Lyndon and Ladybird Johnson visited Wellington. Weir House students shook hands with them on Lambton Quay. Others set off fireworks and threw water bombs at the open sided cable car as Lyndon and Ladybird rode up past Weir House to the Skyline. Others said: "How dumb! Cracking up over how the Secret Service shut everything down. Again I smiled at parallels between a university residence and other child and youth care residences: opportunities for shared and hopefully purposeful activities, meeting celebrities and youthful highjinks!
Cross-cultural expressions of celebratory rhythms!