POSTCARD FROM LEON FULCHER
From the Auckland Fun Run
Hi everyone! I am writing from my vantage point near the Finish Line at the 2010 Auckland Round-the-Bays Fun Run. This is an annual event first initiated in 1972 by the Auckland Joggers Club. The first run is said to have attracted a thousand participants but the event has grown over the past 38 years to become one of the world's largest fun-runs and picnic with nearly 40,000 registered runners and an estimated 70,000 participants. The Fun Run covers an 8.4 km long flat course around Auckland's Waitemata Harbour, site of the 2000 America's Cup yachting regatta.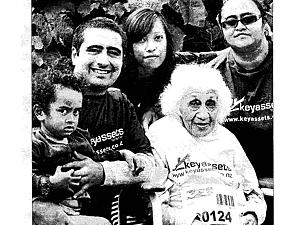 A Century of Family Fun "Auckland Round-the-Bays 2010
Keyassets Fostering New Zealand fielded its own little team of fun runners, walkers, wheelers and supporters to join hundreds of others in this Fun Run occasion and preparations for the "after-fun-run" BBQ. The esteemed elder in our team was 104 year-old Mere Ngatoa supported by her granddaughter Sha. Mere's great-grandsons Jason and Harley were also there, along with Jason's friend Channa. The Auckland Sunday News item about Mere "headed A Century of Family Fun "told of Mere taking her family on week-end bicycle rides. It got got me thinking about the emotional significance of purposeful activity and how we engage young people in CYC work.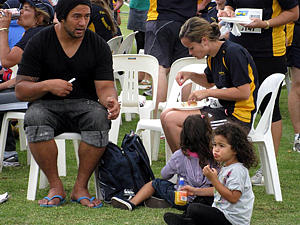 Start early with family activities and fun times together!
When introduced early in a child's life, purposeful activity stimulates opportunities for learning across a range of developmental spheres. These include seeing and hearing (perception), thinking and decision-making (cognitive functioning), having fun (affect), developing communication skills (language) as well as learning and practicing new skills and behaviours (motor functioning). Purposeful activities with another or others become the building blocks through which relationships are established and strengthened. Participation in shared activities "having fun together "engages interpersonal rhythms that are acknowledged and reciprocated. Shared activities nurture a sense of belonging in a relationship in which we are sharing an activity and spending time together having fun. Purposeful activity leads to a growing sense of mastery "this activity is fun! We could do this again together and have fun!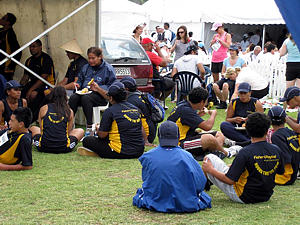 Purposeful activity gets even better when there's food!
At the end of the Fun Run, imagine 70,000 hungry people looking for food! Like locusts, the runners started arriving at the Finish Line and most were hungry! As folk found food, settled down and started eating, the conversations flowed about different memories from their shared activity. One could listen to non-stop chatter and laughter that echoed from each participating group. The same dynamic happens in CYC work.
Sponsored activities make service to others even more fun
Many who participated in the Auckland Fun Run were sponsored runners. Family members, friends and associates had signed up to make financial contributions for every kilometre completed, with funds going to a charity or worthy cause. CYC workers might think of using sponsored walks, runs or adventures involving safe and risk-managed activities that are fun, nurture skills, strengthen relationships and contribute towards the wellbeing of others through collective activities and efforts.
Engaging and participating with others builds community
I was particularly interested to see the large group of young people sponsored for the 2010 Auckland Fun Run by the Trade Commission of Denmark. This made me think of how community building involves people joining together and participating in purposeful activities. In CYC work, one should practise that every day! Just do it!