pstcard from leon fulcher
From Khor Fakkan
Greetings from the Northern Emirates where we spent a few days during the Eid Al-Fitr holidays, soaking up the sun, diving and enjoying some much needed R&R. Khor Fakkan is an idyllic place where the mountains meet the sea, not far from the Strait of Hormuz where the Arabian Sea pushes into the Persian Gulf. At its narrowest point, the Strait of Hormuz is only 50 km wide and is of great strategic importance as the only sea route through which oil from Kuwait, Iraq, Iran, Saudi Arabia, Bahrain, Qatar, and most of the United Arab Emirates is transported. During your next visit to a petrol station, take a moment and reflect on the number of supertankers that make their way through this narrow stretch of water and what risks are taken to guarantee you a steady supply of gasoline!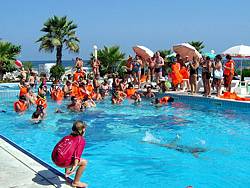 Ukrainian Bus Tour Group Training for a Snorkelling Trip
While lying beside a swimming pool I was surprised by the number of accents I kept hearing. In addition to Arabic and English there were also German voices. But most surprising of all were the number of Russian accents one heard. Indeed, tour bus after tour bus of Russian speaking Ukrainians kept arriving, some staying for the week and others on day trips for snorkelling. I was amused by one bus tour group who arrived in their swimming togs with fins, goggles and snorkels. All were wearing bright orange life jackets preparing to experience the joys of snorkelling off Snoopy Island where a kaleidoscope of fish can be seen in this part of the Indian Ocean. A busty Russian tour guide with megaphone shouted instructions as her tour party invaded the swimming pool for a few minutes of practice before wading off across the beach and into the sea for their first ever snorkelling experience. It was an hilarious cross-cultural experience to see a hoard of differently-speaking adult "learners" waddling comically in swimming fins into the swimming pool while their "trainer" barked instructions through a bull horn. I couldn't resist snapping some photos of this training event and then again as they set off for their dive. A really funny part of it all was that since they had visited at low tide, everyone could literally walk across the stretch of water to the island and the snorkelling wouldn't work anyway.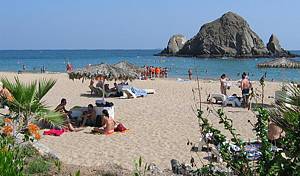 The Snorkelling Ukrainians Wading Towards Snoopy Island
I was reminded of experiences with teaching young people a new skill, especially one such as using a snorkel, mask and fins. I have found that kids normally have trouble getting their heads in the water, especially if they aren't confident swimmers. Breathing through one's mouth isn't an easy skill to master at first but an essential one if snorkelling competencies are to be achieved. Then there is the experience of putting your face underwater far enough that the snorkel fills with water. One has to learn how to hold your breath and then blow air out through the tube when surfacing before breathing again, and remembering to do that on each occasion. Even then there are frequent mistakes and it's not uncommon to rise out of the water in a coughing, gagging fit. The trainer and her bull horn gave us some hilarious moments.
A Magical Underwater Paradise Awaits You
We had two days of magical snorkelling, seeing a myriad of fish, coral and creatures such as I'd never seen before. Check out www.musandamdiving.com for photos of what could be a magical holiday if you're ever visiting this region. And remember: be sure and blow air out after surfacing before taking another breath of fresh air!