postcard from leon fulcher
From an Airport Transit Lounge
Hi everyone! Some folk have asked whether I'm ever at home. I explain that I just save up my commuting hours. Compared with spending 2-3 hours commuting each day to and from work, I save mine up and do it in blocks of time. And as with postcards sent by snail mail that commonly arrive after you get back home, so it is with me. Since New Zealand is at least 3 hours to the nearest off-shore destination, I try to combine several tasks in one trip. And with each task or stop, its like "going to do the messages" as they say in Scotland and there is always something to write about. My point of embarkation for the long trip home to New Zealand this time was Glasgow via London, Montreal, Chicago, Louisville, Kentucky, and Los Angeles.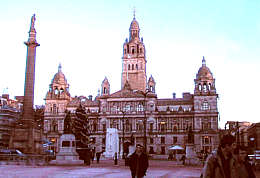 Glasgow Town Hall – Place of my recent embarkation
But as with the "journeys" with children and young people in care, our travels are rarely straight-forward. There is a sort of inevitability about these travels or travails that invite delay. My return flight was to depart Glasgow at 0830 hours to connect with the Air Canada flight leaving for Montreal at 1305 hours. But there was fog over Heathrow Airport "the busiest international airport in the world "and not surprisingly everything slows down when there is poor visibility. By the time we left Scotland there was little chance of making our connection. As we landed in London, only the lucky few who were already there flew on to Montreal that day. Faced with the option of Number 75 on the waiting list or a re-confirmed booking 24 hours later "I chose to wait. "Huston, we have a problem" was the onward message to those awaiting my arrival. I didn't even notice that the first big snow storm of the 2002-3 season was due to hit the Northeast of North America as I flew in!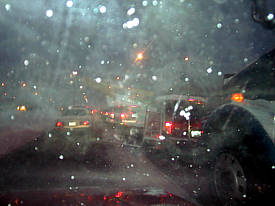 Traffic During the First 2002 Snow Storm in Montreal
That is when I started writing this postcard. As I watched disrupted travellers get angry and vent their frustrations at counter staff who controlled neither the weather nor access to back-up airliners for inconvenienced travellers, I began thinking of how travel disruptions are commonplace in child and youth care work. We frequently find ourselves in the fog, unable to see where we are going. There are often a lot of storm clouds, bad weather and precipitation, whether in the form of bathing routines, tears, bed-wetting or water fights. There is often a lot of frustration because we, or the kids and families with whom we work, are not getting somewhere. There is often a lot of blame thrown around. In the heat of the moments, it is all too easy to forget about the importance of re-negotiating connections and keeping others informed. There is much that is unpredictable and beyond our control. Staying focused is always important. And delays may become a feature of every journey!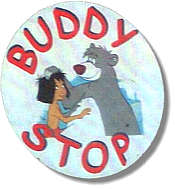 The Buddy Stop at Dunblane's St Mary's School, Scotland
This reminded me of the "Buddy Stop", a clever idea found at St Mary's Primary School in Dunblane, Scotland. This is a designated place in the school playground where children can go when feeling lonely or needing a friend. Children go there confident in the knowledge that some buddy will find them and be there for them when they need it! I think we all need "Buddy Stops"!