postcard from leon fulcher
From United Arab Emirates University
As–salaamu Alaikum – May the Peace be upon you – from Al Ain, the great oasis city of the United Arab Emirates! Here we are mid-way through the Holy Month of Ramadan when families throughout the country fast from sunrise to sunset and then celebrate togetherness and family values with food and gift-giving well into the wee hours of the morning. And just when we thought we were leaving Arabia, we received a call to return "to the national university of the UAE – to assist with helping to make student life more fun and personally rewarding for all concerned.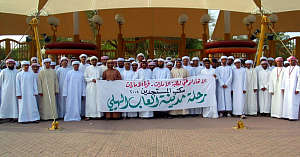 Start of Term for UAE University Boys
To give you some idea of what life at UAEU is like, perhaps the first thing to say is that university education for all Emirati nationals is free. Some 17,000 students are enrolled in Colleges ranging from Medicine, Engineering, Law, Sciences, Humanities and Social Sciences, Food Sciences, Information Technology and Education. Roughly three quarters of these students are women. Given cultural traditions throughout the Arab region, classes are taught separately for males and females. There are actually separate campuses and male students as well as most male staff are not permitted to enter the female campus. Approximately 7000 female students live in residence halls while some 2000 male students reside in university student housing.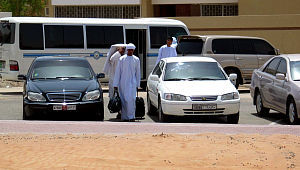 Packing Up and Heading Off on Weekend Leave
Then, something that is totally unique in our experience is the fact that all students living on campus are bussed home every weekend to spend time with their families" leaving just after lunchtime on Wednesday and returning late Friday evening. This means university student life extends from Friday night through to Wednesday afternoon virtually every week of term. During examinations period there is some alteration to this schedule. A fleet of 60 buses drive students "mostly females "to every emirate and regional town in the country. Most of the boys drive their own cars or share car journeys with friends and relatives. There are even a couple of buses that drive more than a hundred students to the capital airport where they board an airplane and fly almost an hour to their island home in the Persian Gulf before returning 48 hours later. Multiple teams of maintenance personnel are always on standby to move quickly to all parts of the country if a bus breaks down and needs emergency repairs.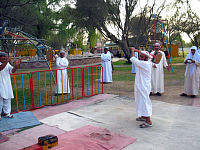 University Playtime is Similar the World Over!
Departments of Youth Care and Student Activities "one for the Female campus and one for the Male campus "organise a range of extra-curricular activities for students. Bearing in mind that in this part of the world, there is no such thing as "dating" in the Western sense of the term, it follows that all activities are single-gender focused. Later this month I've been invited to participate in a Gulf Regional Scouting Jamboree offering my first real opportunity to go camping in the desert. However, I'm told there will be a large tent marquee with air conditioning installed so it will be yet another new experience to report. For now though, the learning curve is steep. In one month I've spent more time working with local people than I did for the whole of last year in Abu Dhabi. Staff are very keen to improve the quality of student life. Meanwhile daily life in Arabia presents many wondrous mysteries and challenges. If you are passing by, let us know and stop in!