postcard from leon fulcher
From Crann'g Nua, County Dublin in Eire
Top of the morning to ya, wherever you are and whatever time of day you may read this. It was a special treat to be invited to spend a week living in and around one of Eire's (you may also read that as Ireland's) most exciting new child and youth care programmes. Crann'g Nua represents a new generation of services for troubled and troublesome children and young people to have been established on the Emerald Isle where there has been a long history of child care provisions offered by the voluntary sector or in the tradition of special education schools. This new service has been established by the Northern Area Health Board and is one of several new services being developed through efforts of the health sector. You will all know, I'm sure how the organizations that sponsor child and youth care services often have a profound impact on the nature of those services and the philosophies that inspire them.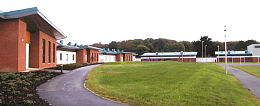 The Purpose-built Campus near Portrane called Crann'g Nua
Crann'g Nua is a Gaelic name meaning community, in this case a new community created for the special purpose of providing specialist child and youth care services for troubled and troublesome young people. In the Irish context, Crann'g Nua is identified as a High Support Service that seeks to provide an integrated range of services from one particular site. This means that it offers an intensive care staff-to-resident ratio of close to 3 to 1, with a minimum of three staff on duty at all times, working in living units for a maximum of eight young people. There are three living units and special education services are provided on the premises. In addition, specialist clinical staff are available on site, appointed through special arrangements with the Mater Child and Adolescent Mental Health Service in Dublin city centre.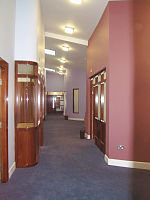 Inside one of the Crann'g Nua Living Units
One of the greatest challenges faced by Crann'g Nua managers and staff, as well as those responsible for the Northern Area Health Board has been associated with the recruitment and retention of qualified and experienced child and youth care workers. Eire has not had a long tradition of specialist education and training in this field. Indeed, there has neither been a long tradition in the education and training of social workers. Well into the late 1980s, the accreditation of educational programmes in social work was still carried out through the auspices of the British Council for Education and Training in Social Work. This has all changed now, but highlights the way education and training opportunities in these fields have lagged. Since Eire joined the European Community, its economy has grown dramatically. It may be worth noting that the Irish economy grew at a rate of four-and-a-half times that of the New Zealand economy throughout the 1990s! Things they are a changin" in the land of leprechauns and four-leaf clovers! It is an exciting place to be.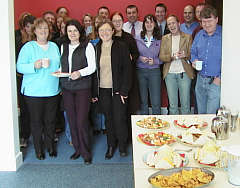 Crann'g Nua staff at my Farewell Event
There was much excitement during the course of my visit about new Canadian child and youth care staff who had been specially recruited to join into the life and work at Crann'g Nua. These Canadian comrades will make a valuable contribution while learning heaps during their stays at Crann'g Nua!