postcard from leon fulcher
From Kentucky
Hello from Buckhorn Children's Center at Buckhorn, Kentucky! I arrived in Buckhorn after flying to Louisville Airport (say Loo-a-vull) where I was met by Charlie Baker, the mayor of Buckhorn, an incorporated township with agency and community working in partnerships to support children and young people from a base in north-eastern Kentucky. The 3-hour early evening drive offered my first-ever glimpses of fireflies flashing either side of the road, and again later after arriving at Buckhorn. Fireflies must surely touch the child in anyone!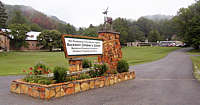 Entrance to Buckhorn Children's Center HQ
It was fun spending a morning with a group of child and youth care workers from Buckhorn, meeting Gerald about a work issue via the Images of Practice in Child and Youth Care CD-ROM. I–ll never forget the words, "Get over it!" offered by an experienced Buckhorn worker after engaging in the supervisory encounters with Gerald. Get on with it! Words so often spoken in child and youth care work, and how often do we as workers need to hear it! We–ve attended to a matter with a child or group of young people, so let's get on with it. No need to grind their noses into it! Those words spoken in June take on new meaning now as I re-read this postcard.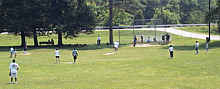 Kids at Buckhorn Children's Center playing softball
I enjoyed watching children play softball at the front of the Buckhorn Administration Building. The quiet, peaceful setting was filled with the sounds of birds and children on the days I visited. Perhaps at other times, the "noises" of residence life at Buckhorn may become more urgent and discordant. Summertime always makes a difference. Along with millions of others, my passion for baseball has been fueled by record-breaking achievements this season delayed by the 11 September tragedy. How fortunate the children, young people and families living in Kentucky are to have the variety and quality of child and youth care services available to them.

Buckhorn Mental Health units established with Health funding
The two mental health units I visited were particularly impressive. Each unit employed two sets of live-in houseparents. Each set of houseparents has a self-contained apartment with adequate space for them and their family without limiting space for the 7-8 young people living in the unit. Each set of houseparents took turns with the duty roster, being on-duty half the week and technically off-duty the rest of the time, unless needed to back up the on-duty workers. With good salary and conditions, this arrangement seemed to work very well and offered important continuity for the young people involved in those programmes. There was a good feel about the place and I am grateful for having had the opportunities to visit Buckhorn.
Thoughts about that worker's challenge to "Get over it!" still linger with me. The Alliance against Terrorism has pounded Afghanistan back to the Stone Age in an air campaign lasting nearly four weeks. I hope Western leaders will soon find the capacity to "Get over it!" and start preparing for the aftermath of war before. Otherwise, we all face a new tragedy of child death and destruction with the onset of a bitter Afghan winter. Wherever you are, may the Peace be with you and yours.