postcard from leon fulcher
From Singapore
Hello from tiny Singapore, that truly unforgettable shopping centre of international standing with a population the size of New Zealand. I passed through Singapore en route to East Malaysia and then again when departing for Hong Kong and China.
A major social policy concern for the government of Singapore relates to the declining birth rate. Demographic trends show that the average size of Singapore families has been reducing steadily and this trend will soon reach crisis proportions unless the fertility rate can be increased to a level matching the mortality rate. Putting it bluntly, more Singaporeans are now dying or leaving each year than are being born.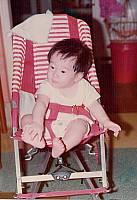 Singapore children are a scarce and valuable national resource
Various financial incentives have been introduced to encourage babies but a report in the August 28 Borneo Post claimed "new measures to generate a baby boom in Singapore include more hostels to draw students together. The head of the government's Working Committee on Marriage and Procreation sees university hostels as ideal for creating opportunities for young men and women to socialise. The Education Ministry is to build more hostels to encourage young people to interact with the opposite sex. Hostel life is almost like living together but in separate rooms!"
Another aspect of child-care policy was headlined in the Singapore Sunday Times on 1 October. Singaporeans were advised that "all child-care centres and kindergartens will have to close for a least a week from tomorrow, following the deaths of 2 more children yesterday, possibly from hand, foot and mouth disease (bringing the number of deaths from this viral infection in September to 4 out of 363 reported cases). Closures will affect about 140,000 children in 557 child-care centres and 440 kindergartens, and their parents, most of whom will be working couples."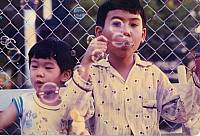 Parents instructed to keep children away from child-care centres
The story continued "the Public Health Commissioner who heads the hand, foot and mouth disease task force reported that all places where young children gather, including privately-run enrichment centres and playgroups, will remain closed for a week to 10 days. Parents are being advised to keep their children at home, and away from crowded places such as playgrounds and swimming pools. The Deputy Prime Minister explained they are just taking a precaution." Two weeks later the South China Morning Post reported from Kuala Lumpur "more than 3,000 government run child-care centres and kindergartens were ordered shut as rapidly spreading cases of hand, foot and mouth disease were blamed for the death of a third Malaysian child. The viral disease has been moving north after an outbreak in Singapore".
If ever one needed evidence to show that children are scarce and valuable resources, one need only look at such examples. Whereas viral infections, such as polio, TB or hand, foot and mouth infections are no longer common in most Western countries, these and other childhood illnesses remain major public health issues for children elsewhere in the world. And as the US dollar strengthens against all other currencies, medicines and fuel costs in developing countries soar. Let's try to remember this when flinching at the cost of petrol and heating fuel over the next few months!