POSTCARD FROM LEON FULCHER
From Sarawak, North Borneo
Greetings from Rumah Kanak Kanak Datuk Ajibah Abol Sri Aman located three hours drive from Kuching, Capital City of Sarawak, East Malaysia. The covered walkway shown in the first photograph protects staff and children as they walk from the four dormitories to the dining room, classrooms or administrative complex. When it rains in this part of the world, it truly rains! Most Westerners still recognise the name North Borneo more than Sarawak, perhaps because of British colonial history. Southern Borneo is named Kalimantan and is part of the Republic of Indonesia.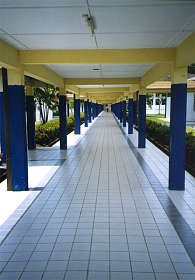 Rumah Kanak Kanak Datuk Ajibah AbolSri Aman Covered External Walkway
I returned to Sri Aman Children's Home for the second of two, 5-day learning modules on Principles and Practices of Residential Child Care, jointly facilitated with Faizah Masud from UNIMAS, Universiti Malaysia Sarawak, Faculty of Social Sciences. The first module in April involved all 29 staff and 76 children in a week of planned learning activities. The 60-hour programme of professional education is sponsored by Jabatan Kebajakan Masyarakat Negeri Sarawak "the Department of Social Welfare for the Malaysian State of Sarawak.
One learning objective was to review how the physical environment of the Children's Home is used, and might be used more effectively to support service objectives for children and young people placed there. A total of 76 children were living in the home at the end of March, 1999 "31 boys and 45 girls. Half of these cases involved Court ordered places of safety while the other half involved voluntary placements arranged by Social Welfare with family members or the legal guardians of each child.
Most of the children living at the Children's Home were aged 10 years or older (61). All but 6 of the older children are girls (25 out of 31) while over half of the younger children are boys (25 out of 45). There were ten children "5 boys and 5 girls "aged 6 years or younger.
A second learning objective was to identify daily and weekly patterns in the use of time, physical environment, staffing and activities that contribute to the achievement of service objectives for each child placed in the Sri Aman Children's Home. The staff learning programme involved the entire staff group working from 8 until 3 each day, with a break for lunch coinciding with the school bus run that collected children from 6 local schools. At the end of each day, staff were involved in a Practicum with the children and young people living in the Children's Home, focusing on active listening and the planned use of activities.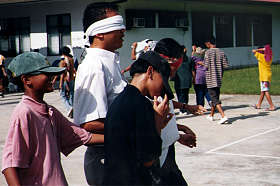 Blindfolded Children and Staff Member During Activity Practicum
The second photograph, portrays the smiling faces of children and a staff member during a game where 100 staff and children were put into 10 groups and then blindfolded. Each group was given the name of a Borneo animal before members were dispersed around a playing field and told to use only the sound of that animal to regroup.
Remember how much fun it is to play with children!