postcard from leon fulcher
From Scotland
Men can care
Hows yae daen aifter anaither month thaen? Here's hopin – all is going well for those of you in the Northern Hemisphere after the Autumnal return to school. At the same time, readers in the Southern Hemisphere will be starting to relish the return of Springtime warmth and outdoor activities. Most of my month was spent back in Bonny Scotland, first for the FICE 2004 Congress in Glasgow, dealing with family obligations, then developing scenarios and filming for a new Images of Men Caring CD-ROM. The new Images CD is being developed as part of the Men Can Care initiative sponsored by the Kibble Education and Care Centre through the support of the European Union Social Fund. The Men Can Care Project seeks to respond to an urgent need for a new generation of male residential child and youth workers who can be recruited into specialist care and treatment roles to provide services for young men referred from throughout the country by Children's Hearings and educational authorities.
Beautiful Fernie Castle along the Road from Auchtermuchty in Fife
Evidence shows that children benefit from having positive male role models and that the public recognise the benefits of creating a mixed gender environment for children and young people, especially in a society where many children grow up in one parent households. A major challenge exists in Scotland where at present, less than 3 percent of the child and youth care work force is male. There are a variety of explanations for this, including the perception that caring for children and young people is still viewed by many as women's work. Another reason may be the consequences and fear generated by disclosures of sexual abuse of young people in residential child care settings, perpetrated by men who were not carefully selected for roles in this field and who subsequently received inadequate training and supervision.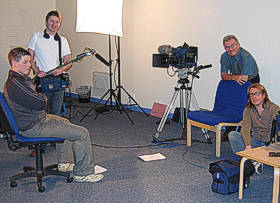 Images of Men Caring Film Crew: Chas, Peter & David with Ross
The Men Can Care Project at Kibble "the largest multi-service centre in the UK providing specialist services to young people at risk "challenges the perception that youth care work is mainly women's work. It seeks to raise the status of child and youth care as a professional activity for men who may not currently see it as a positive career option. The project has established an innovative nine-month programme of orientation and induction training for men of all ages who have no formal qualifications or specific skills training, but who are interested in working in the child and youth care sectors.
The new Images of Men Caring CD includes 28 new scenarios that have been selected by the men engaged in this inaugural Men Can Care Project. Using an oral history approach, each of the participants debriefs an actual incident from their first few months of practice as new youth workers engaging with young people, family members and colleagues "each seeking to make meaning of their experiences and sharing those experiences with others who are considering possible careers in this field. The sensitivity and courage demonstrated by each of the men participating in this project was truly humbling and I thank each one for sharing their experiences in this way. The new Images of Men Caring CD will be circulated to all participants at a major national conference organised by Children in Scotland in association with Kibble Education and Care Centre on 25 November 2004. The conference theme ""Men Can Care: Tackling Gender Imbalance in Child Care, Education and Youth Work" "will generate much interest, and further details and on-line booking can be found at: www.childreninscotland.org.uk/mcc. Don't miss it!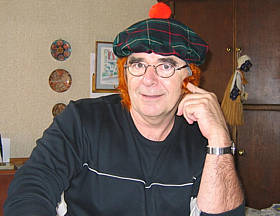 Thom in CU Jimmy Hat Making Meaning In Search of His Scottish Roots
When you think about the staff working with young people in your agency, how many are good male role models? What training did the men in your centre receive before taking up their appointments? Moreover, what orientation training or supervision do they receive regularly? What meaning do you make from such experiences!