postcard from leon fulcher
From Abu Dhabi
Hello again! Time sure flies by when you are having a good time! Have you ever noticed that in child and youth care work? When kids and staff are enjoying themselves or doing something that grabs their attention, before you know it, time gets away from you. The opposite is also true. When kids are bored, or when staff are preoccupied with their own thoughts or concerns, or when agency concerns distract them from attending to what's happening with the kids and their families, well time just seems to drag on and on. The start of the academic year at Zayed University has been anything but boring! And the students really do want to learn!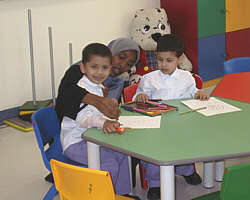 Personal attention is important with children at the Center
One of the more exciting things to have happened in the past month involved an invitation by a local agency Director to visit the new Abu Dhabi Rehabilitation and Welfare Center for People with Special Needs. The visionary Director "Ms Maryam "wrote formally to the President of the university about potential opportunities for a "smart partnership" between her new Center and professional staff employed by Zayed University. The response was positive and the Dean of the College of Family Sciences invited two clinical psychologists and myself to accompany her on a visit to begin exploring what the Director and her staff required by way of assistance. We spent the better part of a morning and agreed to follow-up discussions with a view to developing a memorandum of understanding that might formalise a service-development and training partnership. The whole idea is to support Maryam and her staff to offer value-added services with direct benefits to the children, young people and families who use her Center.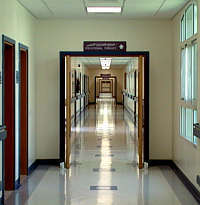 Pathways at Rehabilitation & Welfare Center for People with Special Needs
First impressions of a child or youth care service can be deceiving sometimes. The Abu Dhabi Rehabilitation and Welfare Center for People with Special Needs is a very large complex situated about 40 minutes outside the city. The residential neighbourhood that borders one side of the Center is rapidly expanding and it won't be long before new housing completely surrounds it. Many of the families who will live in that housing estate will make use of services that Maryam and her staff provide. The Center is large and some of the corridors are very long. Indeed, different parts of the Center have different coloured floor tiles so that both staff and family members can find their way around. While it provides only day services to about 200 children and young people now, this number is expected to grow to 4 times the size. The Director sees her challenge being to maintain a child-centred approach and strengthening the capacities of family members to work as partners in the care and education of their children.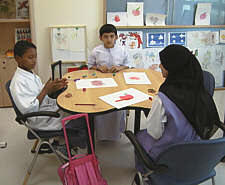 Students proud of their artistic achievements
No matter where one goes in the world of child and youth care, it's exciting to find visionary and dedicated staff who want the best for children, young people and family members with whom they work. There is no time to get bored in this work! Let's hear it for inspirational leaders and workers!