postcard from leon fulcher
From New Zealand
Kia Ora Ra! Warm greetings again from Te Waimako Marae at Lake Waikaremoana on the edge of New Zealand's North Island Te Urewera National Park. I've sent postcards from here before, so as you can see, I keep coming back!
This visit was to take part in a live-in learning module, or wananga, with 30 mature students and their whanau/families, all from the same tribe Ngai Tuhoe. They were studying for the National Certificate in Maori Social Services that is recognised by the New Zealand Qualifications Authority. It involves attending ten modules taught at different Whare Tipuna or ancestral houses (like Te Waimako) around the rohe or tribal boundaries of Tuhoe. Basic research and practice skills, oral presentation and written competencies are all assessed through the course of a year. At the last wananga or learning module the students bring family members with them, and present an oral summary of Unit Standard competencies to three external assessors.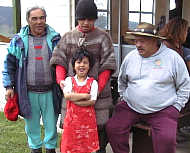 Friend Tapita, her Mum Kura, Koroa Noele, Koro Peho & Ramona
It was a rare honour for me to be invited to participate in such a learning programme for mature students and their families. Several children participated in this learning programme, engaging in activities organised so mothers could attend to their coursework. Tapita and her mother spent a day with other students and children on the Department of Conservation boat touring historical sites around Lake Waikaremoana of significance to the Ngai Tuhoe people. This included a visit to the cave where women ancestors were massacred, a deeply moving experience for all.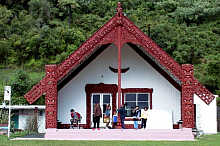 Children Playing at the Front of Te Waimako, Their Ancestral House
Meanwhile, back at Te Waimako Marae, the traditional farewell meal – the sumptuous Hakari feast – had been prepared. It included wild pork and pico pico or fern tips, chicken, eel, kina or sea urchin and South Pacific style raw fish done in coconut milk. This first course was followed with custard trifle and steamed pudding. Does that make anyone feel hungry? My guess is that most of you will never have tasted kina or sea urchin. It's definitely an acquired taste! My Maori friends devoured the kina with gusto while I still struggle with ingesting this delicacy that tastes of neat iodine!
On a serious note, is there is anyone out there who is involved with First Nations or Indigenous education and training in the child and youth care, social services or social work fields? Could you please let us know what is happening in your place? Might anyone be interested in networking with the Maori Social Services students from Ngai Tuhoe? Each student enrolled for this course, offering National Certificate in Maori Social Services, received a PC package with their enrolment. This gave the students and their families the option of e-mail networking. If there is any interest, I will be happy to pass your message along.
Tapita gave me a copy of her signature to help close off this month's Postcard! Our thoughts are with all of those who have suffered loss in recent weeks. We pray for patience, clarity of thought and dialogue through the uncertainties that face our world in the weeks to come. May peace be upon you and yours! Assalamualaikum!