POSTCARD FROM LEON FULCHER
From New Zealand
Kia ora te whanau o awhi tamariki e rangitahi! Greetings from New Zealand to the extended family of child and youth care workers, wherever you are! Located 3 hours east of Australia, New Zealand was established through the signing of the Treaty of Waitangi in 1840 by Queen Victoria and the Maori Chiefs of Aotearoa "Land of the Long White Cloud. New Zealanders will be the first to welcome in the New Millenium at Te Maunga Hikurangi, on the East Cape of New Zealand.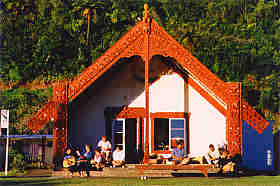 Photograph of Te Waimako Marae, Lake Waikaremoana, Te Urewera, Central North Island
As holders of America's Cup, New Zealand will shortly welcome the elite of world yacht racing to Auckland for the defense of that trophy. Many will stop off in New Zealand on their way to the Sydney Olympics in 2000. Before that, however, New Zealanders are hoping for successes by their All Blacks in the 1999 Rugby World Cup starting in the UK come October.
The next APEC conference of world leaders will be hosted by New Zealand in the next few weeks. That meeting of ministers from the Asia-Pacific region will explore economic relations and promote economic development amongst the member states. President Clinton has signaled his intention to attend, and to stay on and sample the tourist delights of this beautiful island country. Clinton's arrival will end an era of diplomatic tension that has existed ever since New Zealand adopted a nuclear free policy. This cancelled the ANZUS Treaty that had operated since World War II, and has strained USA-New Zealand relations for nearly two decades.
The "economic experiment" for which New Zealand is internationally renown saw this country start to move in 1984 from being amongst the most regulated welfare state economies to now being one of the most deregulated free-market economies in the world. However, many people are worse off. New Zealand researcher, Dr Judith Davey, noted how Maori & Pacific Island children and young people are significantly worse off now according to statistics on unemployment, school under-achievement, poor health and crime. Student debt for tertiary education is in the billions.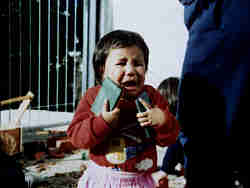 Maori child at Te Kohanga Reo Language Nest Centre
In 1985, the Maori peoples of New Zealand participated in a Ministerial Review of a Maori Perspective for child welfare services. That Review, known as Puao-te-Ata-tu (Daybreak), led to the Children, Young Persons and Their Families Act, 1989. This legislation has attracted international attention for ways in which Family Group Conferences are required with extended family, community members and others before decisions are made about the future of all children. Puao-te-Ata-tu remains a truly significant, world-class example of indigenous child welfare research because of its design, methods, processes and findings. Fifteen years on, the New Zealand government has started negotiating with Maori tribes to hand back the care and control of children and young people to kinship networks, at significantly less cost!
Time and resources are likely to determine whether the new plan works.

Ka kite ano