postcard from leon fulcher
From Al Ain, UAE
Walk into any department store, supermarket, stationary shop or shopping mall during the past couple of weeks and the chances are you–ve been faced with a myriad of advertisements for "Back to School" specials. That is certainly true here in the United Arab Emirates where it seems that everyone is busy selecting their designer school gear with great care and attention. I've had several encounters that have got me thinking about what "Back to School" means, and the fact that it's an international phenomenon. Of course I'm talking now about children and young people preparing to return to school in the Northern Hemisphere, ever conscious of the way that Back to School specials are never far behind Christmas in the Southern Hemisphere.
17 & 18 year olds moving into their UAEU residence halls
While there are many features about the "Back to School" phenomenon that are similar throughout the world, here in the UAE there are some very interesting differences. First of all, fathers and older brothers commonly play a very active part in selecting the gear, especially for their daughters, since males are usually "but not exclusively "required to drive the family to the shopping malls and pay for all purchases. Next, one finds that mothers are almost always there "as with Western mothers "helping to choose the requisite supplies. An interesting feature about this in the UAE is that many of these Emirati mothers have themselves dropped out of school early to enter arranged marriages and start rearing children. Their active participation in choosing school bag, pencils and stationary is almost as though they are re-living the excitement of an activity cut short by social and cultural traditions.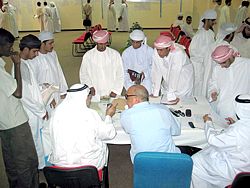 Registration for the New School Year
Another notable difference is that almost all the Emirati mothers and older girls one sees in the "Back to School" sections in the Al Ain shopping malls have their faces covered with traditional burka, or by their shayla or headscarf. This guarantees anonymity while permitting movement around the shopping mall without the women being restricted in any real way. Clusters of shoppers can be heard chattering away at a rapid clip, reviewing requirements and asserting personal tastes, with occasional arguments about whether one item is more suitable or fashionable than another.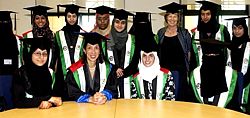 UAE and international students with the US Ambassador

A similar process lived itself out last week when new students started arriving for the new university year. Here it was not so much purchasing the supplies but actually arriving and moving in to their halls of residence for a new school year. Younger brothers and sisters were clinging to the prospect of sharing rooms with older siblings. This highlighted just what a scary thing it is to start a new school year. Regardless of where we live, child and youth care workers need to take seriously this "predictable crisis of child and adolescent life" since smoothing such transitions will go a long way towards shaping performance outcomes that young people achieve during their first days and weeks of the new school year. I've had to insist that staff be back from their summer vacations at least a week before new students arriving, to ensure that everyone gives full attention to students" personal and social needs. How often do staff actually want to start their holidays at the very times they may be needed most?!