postcard from leon fulcher
From Paris
Bonsoir Mesdames et Messieurs. Behind every postcard lies a tale and this one is no exception. The prospect of a significantly reduced airfare meant that we travelled home to New Zealand after our university housing conference in Florida via Europe and Singapore. 3 European destinations were offered "London, Frankfurt or Paris "to make on-going connections to Singapore and then Auckland. It was early morning when we arrived at Charles De Gaulle Airport with the prospect of sitting all day in an airport transit lounge. An alternative was to catch the Air France Bus into Paris and making our way from the Arc de Triomphe down les Champs Elysees. Sure beats a transit lounge! Early summer and a beautiful sunshine day in gay Paris. We had our carry-on luggage with laptop because there was no left luggage facility at Charles De Gaulle.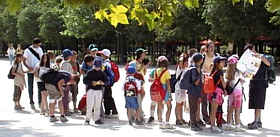 A Walk Down les Champs Elysees
On the bus ride into Paris, I have a vivid memory of seeing public advertisements for the first time challenging anyone who might travel to Asia for child prostitution. It seemed a really good idea to openly ask questions of anyone who would engage in child sexual abuse, as well as for those who would find the prospect emotionally abhorrent. For most, the whole issue is not something we think about. Like today, let's think about child sexual abuse and how close it might come to our families, neighbours or workmates. Yeah, right. Most would rather not go there, thank you very much! And yet the legacies of child sexual abuse are prominent right now in the international media, whether with the Catholic Church, Internet paedophilia or child abductions and killings. Good on the Parisians for asking the public to stop and think about their motives in a straight up sort of way. All that, during a bus ride into Paris!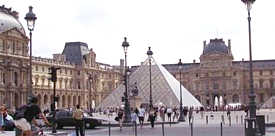 The Louvre
Having exited at Arc de Triomphe we set off for our walk down les Champs Elysees. Like most others doing their OE (overseas experience), Jane and I had a map of our journey and had read up on the options we wished to include in the time available. However, having oriented ourselves to the place we were wishing to visit, we failed to account for the Tour de France. There was a particularly difficult section of the walk that involved manoeuvring around construction detours while workers appeared to be removing bleachers from along the roadway after Bastille Day celebrations. It wasn't until a few days later that we realised they were setting it all up again so everyone could watch Lance Armstrong and the others finish The Race! We all face obstacles!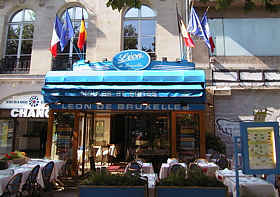 Another Leon Hanging Out on Les Champs Elysees!
We walked as far as the Louvre before crossing over the Seine into the university district. It was Les Minist–res Caf" that captured our imagination and its offerings exceeded all our expectations. The ambience, the timing, the companionship, the Medoc, the chat, the service ... Stumbling out the door and down to the Batobus stop, we travelled up-river to Notre Dame and then back downriver as far as the Eiffel Tower. A short taxi ride back to Arc d"Triomphe that caught the Air France Bus back to the airport, and we had time to spare. What a glorious day! Bon jour!