postcard from leon fulcher
From Singapura
Hello from Singapura, the lion city of Southeast Asia, setting for the 16th Asia-Pacific Social Work Education Conference at the start of August and my last stop before heading home after four weeks in Malaysia!
Some may recall in last year's Postcard from Singapore that a major social policy concern here is the declining birth rate, the scarcity of children and the value of child and youth care. With that in mind, I signed up for the agency visits option on the Friday afternoon of the conference. This involved a most interesting afternoon spent with a Japanese Professor and his professional colleague working in Korea and some National University of Singapore students from the social work programme being hosted by the staff and children at Chen Su Lan Methodist Children's Home, http://www.vivamusic.com/csl.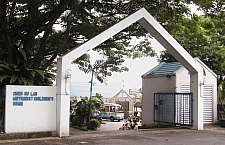 Entrance to Chen Su Lan Children's Home
The value and valuing of Singapore children was clearly evident as our group of Social Work educators were hosted and shown around Chen Su Lan Children's Home. The Home was established in 1968 at Changi by a man, born of a Christian family in Foochow, China who went on to graduate from King Edward College of Medicine and dedicated his life to caring for poor and needy children. The Children's Home was relocated to its present facilities at Serangoon Gardens in 1984 on land leased by the Government of Singapore.
The Chen Su Lan Children's Home provides care and shelter to children aged 4 to 12 who come from single-parent, low-income families, or whose parents are in custodial institutions. They also provide child care services for children aged 3-6 for working parents and disadvantaged families, and also provide after-school care for children aged 7-12 years. The theme of Old MacDonald's Farm was one of several themes built into the complex offering urban children opportunities to be around chickens and farm birds. The children attend schools in the vicinity and learn to care for and share with one another. As with all Singapore schools, children attend either early or late session of school. Early school means starting class as 7:30 am and getting out at 12:30 pm while late school means starting at 1 pm and finishing at 6 pm.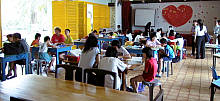 Friday Afternoon Study Groups with Staff and Volunteers
Most child and youth care workers in the West may find this a different sort of arrangement for time-tabling the school day. It's more common in the West, for example, to have a set school day and enough school classrooms to meet the needs of the children in the population. Throughout Southeast Asia where there has been, and continuous to be a dramatic commitment towards increasing literacy rates across sizeable populations. With scarce resources to build schools, the answer was an arrangement making better use of school buildings and facilities for a wider number of pupils during the course of any day. Extra tuition is offered on Saturday mornings!
If anyone were interested in a 6 to 12-month volunteer experience working in Singapore at the Chen Su Lan Children's Home, let me know and I would make genuine referrals or donations to the Director, See Choon Wai, and Social Worker, Ler Sze Yuan.