POSTCARD FROM LEON FULCHER
From Northern Ireland
Greetings from Belfast, Northern Ireland, host to the June 1999 Convention on Family Group Conferences "Let the Family Speak!" at Sleigh Donough Hotel on the Coast of County Down. Beautiful location! Much to think about how to use Family Group Conferences in decision-making with children, young people and their families. FGCs are becoming a significant added value strategy for specialist child and youth care practice.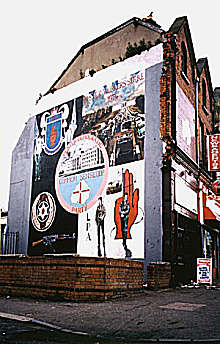 During the drive from Belfast International Airport to County Down, I asked to drive down the Shankill Road and then back up the Falls Road of these two parallel thoroughfares through West Belfast. The Shankill is where the "Prods" live, while the Falls are where the "Finians" live. Protestant and Catholic live here on adjoining streets, where in 1972, the "territory" between the Falls and the Shankhill constituted a "no-go area" and barricades were erected.
The social origins of "the troubles" in Northern Ireland date from 1690 and the conquests of William of Orange over the six provinces known as Ulster. As seen in the photo showing paramilitary aspirations of the Ulster Democratic Party, one cannot ignore how both sides of this community will need to decommission weapons! I was there at the start of the Marching Season, when Orangemen march in their bands to recognise cultural traditions dating back 300 years. Who will forget Drumcree where during last year's Marching Season, three children died in a fire bombing associated with Orangemen-Catholic relations?
While driving in historic West Belfast, I found another image worth sharing. Unlike the first mural that celebrated force through threat of armed conflict, the second mural celebrated the United Nations Day for the Eradication of Poverty. Striking images of young people featured in this mural, reflecting different races and gender. To the left of a rainbow appear memorable words offered by the UN Secretary General in 1987.
"The way a society treats children reflects not only its qualities of compassion & protective caring but also its sense of justice, its commitment to the future & its urge to enhance the human condition for coming generations".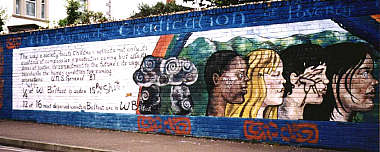 At the bottom of the UN Mural one notes that a quarter of West Belfast is under 15 years, a message to which another, perhaps more youthful commentator offered the graffiti Bull Shit! Note that 12 of the 16 most deprived wards, or voting districts in Belfast, are found in West Belfast! Sadly, joint Irish-British attempts to negotiate a power-sharing government in Northern Ireland between Catholic and Protestant communities appear to have once again faltered. Remember: Its not about religion!
And yes, Belfast and Northern Ireland are amazing places to visit!