postcard from leon fulcher
From Milwaukee
Have you ever joined a Study Tour with Youth Care Workers? A couple weeks ago we joined an international group of 18 college and university student housing managers and supervisors from Australia, England, Hong Kong, New Zealand, the USA and the United Arab Emirates. A convoy consisting of a large van and two "people movers" with luggage started in Chicago at Loyola University of Chicago, then a new housing corporation formed to operate a large student housing complex for 3 Chicago inner city private universities, and next International House, one of four American residential college centres built by the Rockefeller Foundation in the 1930s. The Rockefellers built similar facilities at the University of California at Berkley, in New York and in Boston. Each college has more than 80 years' experience with international students attending American universities. A night baseball game between the Chicago White Sox and the Oakland Athletics offered a new cultural experience for most. Chicago lost and the guy sitting next to us drank a lot of beer!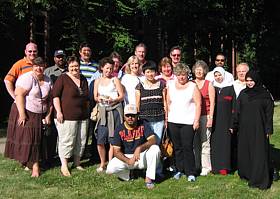 Photoshoot for the 2005 ACUHO-I Study Tour Group
Next we travelled south to the University of Illinois, Urbana-Champlain, one of the great Midwestern Land Grant Universities with its large American football stadium where the Fighing Illini compete for recognition in National Collegiate Athletics Association (NCAA)'s Big 10 league. Then north to Northern Illinois University with its more modern tower block facilities and our first experience with Tornado Shelters! Fortunately, we didn't experience any tornadoes whilst driving along endless fields of corn and seemingly well-to-do farming communities.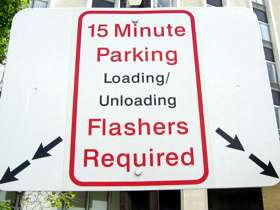 Flashers Required!
Day 5 and we entered Wisconsin, where people are nicknamed "cheeseheads", and they certainly fed us cheese – at every branch of the University of Wisconsin we visited. Daily travel commentaries noted how few dairy herds we had seen, compared with New Zealand, the United Kingdom or Australia. Student housing at the University of Wisconsin in Madison took us back to the history of the Big 10 Wolverines, where 60's style dormitories are being replaced with core and cluster housing. We toured beautiful accommodation for graduate students and their families clustered beside one of the lakes that surround Madison. The child care facilities for international families were especially interesting.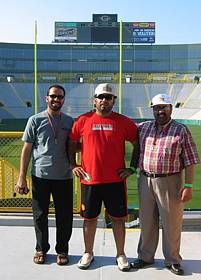 Abdul Aziz, Saif & Omar, Trialists for the Green Bay Packers

We completed a circuit of branch campuses of the University of Wisconsin travelling to Lacrosse, Stephen's Point and then Green Bay. Few of our group knew about Lambeau Field or the Green Bay Packers, so the initial prospect of going to the American Football equivalent of Old Trafford, the MCG, or Eden Park yielded "Oh Hum" responses from many. The factory visit and then tour of Lambeau Field with Gourmet Dinner sponsored by KI (KI.com) manufacturers of educational furniture and office equipment marketed around the world, gave us all much to think about. Our final stop was at St Norbert College, rated fourth in the nation by US News & World Report for 2005. Then it was on to Milwaukee and the start of the international student housing conference with 1300 delegates! Great time! Whew!