postcard from leon fulcher
From Disney World, USA
Hi y'all! Buenos Diaz from the fantasy world of Disney World in Orlando, Florida! This was my first visit to America's Sunshine State. My wife Jane and I came to attend and present an Interest Session at the Association of College and University Housing International conference sponsored by an alliance of Florida institutions of higher learning. The conference was held at the Disney Contemporary Resort and every time we turned around, somebody wished us "a magical day"!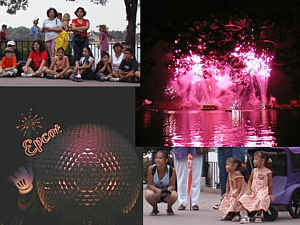 Children of every age the world over share the magic
This venue was certainly a good place for people watching, one of my favourite pastimes. Children of all ages make their pilgrimage to this centre of Disney's technological and commercial achievements, from infants and teens to those in their later years manoeuvring around the park in Harley Davidson scooters. It always comes as a surprise to find young babies brought to a place like Disney World when it is difficult to see what they take in from the experiences. Many young children protested their discomfort with the heat while their young parents pressed forward, determined in their beliefs that this was a "fun experience" for their child. More likely, Disney World seemed a "fun" experience for the parents!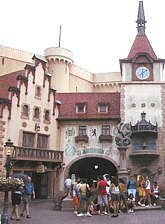 Youth hanging out in Germany's Town Square
The older children were indeed having fun. Their eyes twinkled throughout the parades, when Mickey Mouse, Goofy or Chip n' Dale – the Disney chipmunks – turned up to interact with the masses. Youths could be found "hanging out" at strategic points throughout the theme parks, working have to "be cool" and switched on to the latest happenings amongst American teens. Germany's Town Square at the Epcot Centre seemed to be a particularly "cool" place to hang out. At every turn – and in every corner of the theme parks – one is confronted with determined efforts to sell and market the Disney image. Battery-powered whirling gadgets with flashing lights seemed to capture the tourist dollar spent on younger children. Mickey Mouse and Donald Duck were offered in every possible format. A common theme seemed to be that the purchase of Disney memorabilia was a compulsory requirement for all who visited. Interestingly, virtually none of the merchandise on sale contributed to American jobs since all of the products were manufactured in Third World countries. I kept wondering how many child labourers had been involved in the production of this glitter and largely useless products.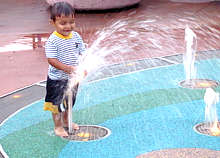 Toddler Staying Cool with Water Play
This made it all the more pleasing to watch a group of children playing in one of the water features of the park. For more than an hour we laughed with both children and parents as the dancing fountains prompted good old-fashioned playfulness, without resort to batteries or glitter. It is truly a magical place of fantasies. But Disney World is also a giant tollbooth designed to extract "mucho dinero" – or a whole lot of money – from all who pass by. Have a magical day!