POSTCARD FROM LEON FULCHER
From Scotland
Greetings from Dundee, historic setting for Centrepiece 1999 – "Building a Professional Identity" – hosted by the Scottish Centre for Residential Child Care. For the past five years, the Centre has served as a clearinghouse for practice development and research in the United Kingdom. This year's conference highlighted significant developments shaping the future of child and youth care services in Scotland for the new millennium.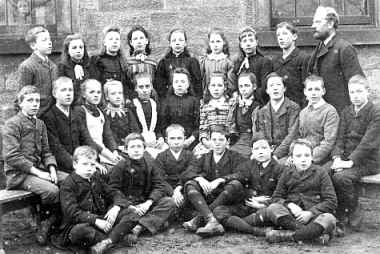 School children, 1895
A new Scottish parliament has been elected after nearly 300 years, offering the Scots limited self-rule for the first time since 1707. The new Scottish parliament will shortly implement legislation requiring the registration of all child and youth care workers, establish a code of practice and prescribe professional training standards. A new Scottish Commission for the Regulation of Care will act as an independent regulator of child and youth care services, including adoption and foster care, residential and day care, secure units and boarding schools.
Support for reform of child and youth care services has come from a variety of sources. Amongst these, the advocacy group, Who Cares Scotland, has been especially prominent. For nearly a quarter of a century, this group has represented the views of children and young people in care throughout Scotland. The work of Who Cares Scotland is to be expanded, seeing full-time child and youth care advocates working in each of the main population centres and part-time advocates in the rural areas.
A contentious feature in the new legislation is the Consultancy Index. This will contain information provided by employers about staff (including volunteers) whom they consider unsuitable to work with children by reason of misconduct that has harmed a child or placed a child at risk. Before employing someone, employers will be required to check the name of the prospective employee (or volunteer) against the information held in the Index. In spite of important legal and civil liberties issues connected with information held in the Index, these are seen to be outweighed by the need to introduce measures which protect children and young people from those who may have ulterior motives for wishing to work in this field.
Most will agree these important developments for the future of child and youth care are worthy of world attention.