postcard from leon fulcher
Another year ...
Another year comes to a close; a year full of adventures, surprises and times for reflection. While writing this Iím also packing for another journey from Scotland to New Zealand having to take account of Northern hemisphere winter while anticipating the Southern hemisphere summer. A 28-hour flight with stops in the desert, the tropics, the Sunshine Coast and finally the City of Sails; Iím sure to be a basket case when I get there. A big challenge is working out what to take as cabin baggage, what to put in the suitcase and what to leave behind. Invariably, travellers carry too much baggage. Child and youth care work is a lot like travelling: What do I carry with me today? What do I carry as back-up? And what do I leave behind?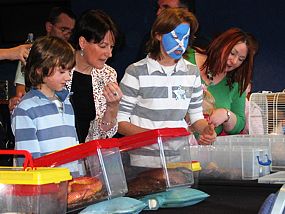 A Sense of Belonging Starts Early!
Outcomes have been a dominant theme throughout the year. Governments establish outcomes with social, health, economic, family, education, cultural and justice agendas. Agencies target outcomes wanting young people to be free from offending, abuse & neglect, cultural alienation, discrimination, while having a sense of permanency & stability, reliance and restoration. Wellbeing outcomes for young people are reported as being healthy, financially secure, safe, responsible, learning what they can, having basic needs met and gaining a sense of identity. All are laudable ideals. But what outcomes do young people themselves achieve? Or what outcomes do family and extended family members want for their children? World-wide, professionals, civil servants, politicians and service regulators now focus on outcomes, using outcomes to justify expenditure and make claims about effectiveness.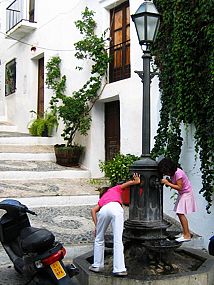 Young People Thirst for Learning & Adventure
But confusion persists about the difference between service outputs and service outcomes. Even greater confusion surrounds the question of how to measure service outputs and outcomes. Some say the distinction is a matter of semantics. But child and youth care workers can distinguish between outputs and outcomes as follows: Services produce outputs while children, young people and their families achieve outcomes as the result of, or in spite of service outputs. Without such clarification, the outcome debate is used to impress funding controllers, service regulators and politicians with unrealistic claims while taking ownership of relational influences best measured by young people & family members. The best outcomes are those assessed some while after young people leave our services. But they are rarely asked!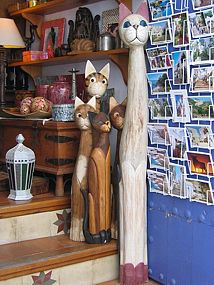 Cats, Postcards & Collectables are found Everywhere!
This point has been highlighted recently while listening to young people share life stories about their experiences as looked after children. Those interested in the life stories of young people and carers can go to www.sepodcasts.org and click on the Life Stories Channel. When listening, think about how often we invite young people to share their stories after they move on, and add their perspectives to the outcomes debate. Itís easy to get absorbed in new challenges while others become memories?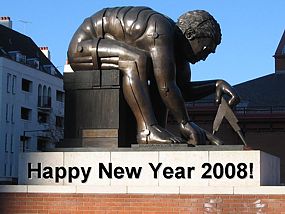 Eduardo Paolozziís London Sculpture of Newton
While passing through London after completing some more life story interviews, I came across the Scot, Paolozziís sculpture of Sir Isaac Newton. It made me think again about outcomes. Have a peaceful holiday break and a happy start to 2008!