postcard from leon fulcher
From Hampden Park, Scotland
Hello from Hampden Park, ancestral home of Scottish Football where tens of thousands of fans will make their way in November hoping to cheer the Scots on towards beating the World Cup Champions Italy and thus qualify for the 2008 European Cup Finals. But on a crisp, clear day at the end of October, football was not why scores of children, young people and adults made their way to Hampden Park. Our mission was to attend the Foster Care Associates (Scotland) Achievements Day when foster kids and carers gathered together from across Scotland for a day of fun, activities and awards. Dancing; face painting; balloon sculpturing; the bouncy castle; hair brading; a fire engine; street drama; a magician; food – something for everyone.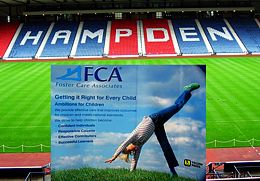 Hampden Park: Home of Scottish Football & Special Events
The place was absolutely buzzing. Kids of all ages were choosing how they would like to have their faces painted. Spider man was seen running about chasing batman; Braveheart brigades chased ghostly goblins; and delicate flowers and butterflies floated all about the place. The artistic performances were also stunning. The Highland Dancer did his reel while another lad demonstrated break dancing. Others sang or did poetry, while another pair of characters used Cheeky Monkey and his pal in a puppet supported rendition of a TV musical.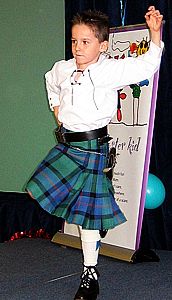 A Scotsman Highland Dancing
Everyone got excited about The Animal Man and his collection of mini zoo characters. The fancy hen strutted around the floor, pecking at grain while avoiding enthusiastic children. A duck sat in her pen conscientiously laying eggs, yes, actually laying eggs throughout the day. The snakes were very active in their glass pens, as was the tarantula spider. A huge lizard let children stroke his back. And all the while, The Animal Man kept reminding children that if they had touched any of the animals, they must be sure and wash their hands. Health and safety is never far away!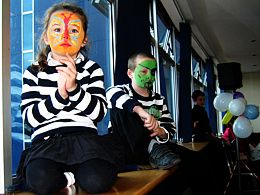 Painted Faces – Carefully Chosen
All these activities reminded me of how important it is for children – especially looked after children – to have normative experiences of fun and play. Like foster children and young people everywhere, each of these kids had a story that could be told of how it was that they came to have been placed in a foster home. It would be possible to weave stories about all the problems they have faced, perhaps still face, and perhaps still struggle to overcome. However, here was an agency demonstration of purposeful activities where children and young people have opportunities to celebrate achievements, to reinforce strengths, to rejoice in their resiliency, and to commemorate their sense of belonging to a tribe of people who were making a difference in their lives. It was an honour to be part of their celebrations and to share tearful moments as these kids did extraordinary things. How often do we create opportunities for foster kids to gather and share fun together?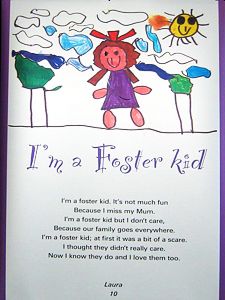 I'm a Foster Kid Poster by Laura, Age 10
And how is your face painted today? Is there a smile painted in place to help cover up the worry or stress lines associated with whatever you had to deal with last night? And as you engage the children and young people in your charge today, will there be opportunities for laughter and fun? I hope so. Make it happen. Just do it!