postcard from leon fulcher
From Nottingham
Whilst walking to the corner shop last week to collect the Sunday papers, I found myself behind two little girls – aged 3 and 5 – walking hand in hand with little pink handbags in their outer hands. The older one kept turning around and shouting "stay there" to the man walking 20 paces behind them. At first I thought they were shouting at me, but it soon became obvious that the other guy was the focus of their attention. I walked on; collected the newspaper; and the little girls entered the shop as I was leaving. The older one was still shouting for the other guy to stay where he was. I said she sounded like a "Bossy Boots" and paused on the way back home to speak with the guy to whom they were shouting. He was their father, and explained that their girls had wanted to go to the shop on their own without supervision. The parents, on the other hand, were anxious about their girls walking 100 metres to the shop and crossing a street on their own. So he lingered attentively, encouraging their independence but remaining vigilant. A great illustration of child and youth care practice right there on our street!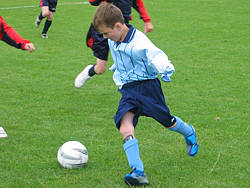 The International Young Peoples' Football Championships
The highlight of the month had to be the annual International Football Championships (North Americans think soccer) sponsored by one of the Uk's largest independent providers of foster care, Foster Care Associates. Children, young people, carers, family members and staff gathered from throughout the UK and Ireland at the University of Nottingham to participate in a busy weekend of 5-a-side football, BBQ and disco. Teams from each region included mixed 8-12 year-olds, mixed 12-15 year-olds, and separate 16-18 year old male and female teams. Day 1 involved 6 x 10 minute matches with the winning teams moving through to the Cup competitions on Day 2, and the other teams competing in a Plate competition with 6 x 5 minute games.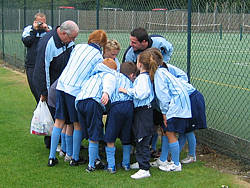 One of the 8-12 year-old teams plotting strategy
Each team had clearly taken preparation for the Championships very seriously. I could scarcely keep from laughing as I watched the littlies warming up on the sidelines with plenty of stretching and leg exercises. Teams were also scouting along the sidelines of competitors games to identify potential stars and prospective scorers. There were even more little ones, supporting older brothers and sisters, joining in with the exercises and cheering support for teams playing on 16 different playing fields.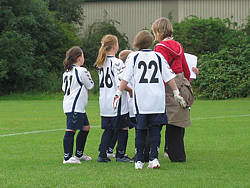 Teenage girls were often better footballers than the boys!
Developmental milestones being what they are, it was not uncommon to find that the girls were more skilful footballers than many of the boys. And then, the most unlikely wee lads proved themselves far more skilful than some of the bigger boys. And mixed groups of young people transformed into competent football teams. Each participant received a medal hanging from a blue ribbon at the end of the event, something. For many of these kids it was the first medal they'd ever won in their lives! Talk about pride! When the Plate and Cup Champions were announced, it may as well have been the World Cup Championship as far as these kids were concerned. It was an impressive display of child and youth care organisation and an honour to be there. Listen to a CYC Learning Zone Podcast compiled from sidelines interviews at http://www.sepodcasts.org/Podcasts/Football_Championships.mp3
Have a good month and think of how young people can celebrate normative opportunities for fun!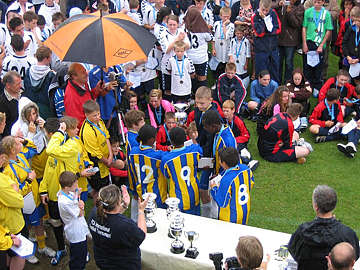 Champions hold their cup aloft to celebrate achievement