postcard from leon fulcher
From Espana
"H'la! Buenos di's! "Qu" est"? Well another month has come and gone, and this month we're writing from the Costa del Sol. Given the British rain this summer – more than in any year since the American Revolution – we joined an exodus of those searching for sun in the South of Spain. It was very pleasant indeed.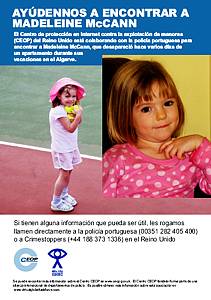 From landing at Malaga Airport and everywhere we travelled, we found posters seeking help from the public to find 4 year-old Madeleine McCann who was taken from her family holiday apartment in Portugal's Algarve Region in early May. The police have no firm leads about her disappearance and we're all asked to help: http://www.findmadeleine.com.
If the plight of Maddie McCann and her family wasn't enough to think about, we awoke on the day after flying into Malaga to find that a major terrorist incident had occurred at Glasgow International Airport, just hours after we had passed through the front entrance. And then we learned that the foiled bombers had been doctors at the local hospital in Paisley where we live! So while it was nice to have found the sun and to be away from the crazy events in Glasgow, it does make one think about strange events that are unfolding in our world. And one can't simply say it's happening to other people somewhere else. Indeed, in the same week I am writing this Postcard, an undercover BBC News team has discovered babies being illegally offered for sale in Bulgaria with promises of smuggling them abroad. That expose" has already resulted in three arrests and an ongoing investigation.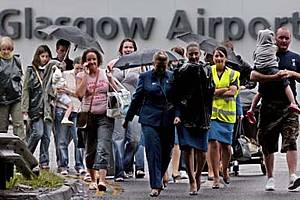 Anxious passengers being escorted out of Glasgow Airport
Amid concern about the growing problems of child abduction and exploitation, including child trafficking and child pornography on the Internet, The International Centre for Missing & Exploited Children (ICMEC) was founded in 1998 and launched by the U.S.-based National Center for Missing & Exploited Children. It works to identify and coordinate a global network of organizations fighting child-sexual exploitation and abduction. The extent of the problem worldwide is not known. However, in the US alone, it is said that 800,000 children are reported missing each year. An estimated 200,000 of these children are abducted by family members, and 58,000 are abducted by non-family members. A multi-billion dollar commercial child pornography enterprise is considered one of the fastest growing businesses on the Internet. See this website for more details: http://www.icmec.org.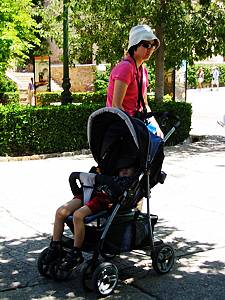 Visitors, young and old, travel to Granada's Alhambra Palace
On a lighter note, we travelled to Granada for a tour of the Alhambra Palace, a place I first learned about as a child playing the game of Authors. The American author, Washington Irving, wrote a book about his stay at the Alhambra. First established in the 9th Century it was developed through 400 years to become a residence for the kings in the 13th Century. Created originally for military purposes, the Alhambra was an "alcazaba" (fortress), an "alc–zar" (palace) and a small "medina" (city), all in one. The Alhambra became a Christian court in 1492 when the Catholic Monarchs (Ferdinand and Isabel) conquered the city of Granada, just a year before Columbus set sail for the New World.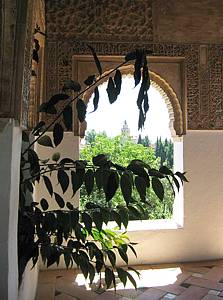 Glimpses from the Alhambra Palace at Granada. For 500 years, Muslims and Christians lived peacefully together here in the same community! History could teach us so much!