postcard from leon fulcher
Postcard from Saskatchewan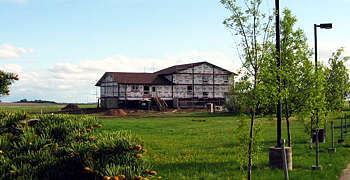 Ranch Ehrlo Society building a New Group Home at Regina
Hello from the prairies of Canada, and Regina in particular! As a part of their 40th Anniversary Celebrations, the Ranch Ehrlo Society hosted a conference around the theme of Residential Treatment: An Integral Part of the Child Welfare Continuum of Services. And an informative gathering it was too! Dr Larry Brendtro, Dr Martin Brokenleg and Dr Mark Krueger were the Keynote Speakers. With more than 300 delegates from across Canada, the US, Cuba – and also Scotland – the place was buzzing with child & youth care talk, non-stop storytelling and lots of laughter.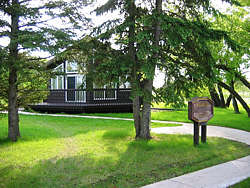 Learning Values for Living is a Feature of Ranch Ehrlo Practice
Many will be familiar with the 4 basic tenets of the Circle of Courage, developed through indigenous knowledge of First Nations' peoples. Interestingly, these same principles are also found in the knowledge base of indigenous peoples in many other parts of the world! For those who haven't been introduced to these principles, I'll quickly summarise them here. First, the principle "Belonging" highlights the importance of young people having opportunities to establish trusting connections with others – especially kin group, family and peers. This emphasizes the importance of Attachment, providing motivation for a young person to affiliate, form social bonds and learn that "I matter and am appreciated!" The second principle "Mastery" reinforces the importance of young people having opportunities to solve problems and meet goals. Through experiencing Achievement, a young person is motivated to work hard and attain excellence, and through recognition of competence a young person learns that "I can solve problems!"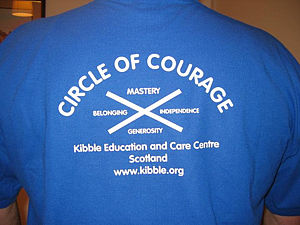 Scotland's St. Andrew's Cross Circle of Courage!
The third principle "Independence" highlights opportunities for young people to build self-control and demonstrate responsibility. This emphasizes the significance of Autonomy through which young people find motivation for self-management, the capacity to exert influence over their lives and gain a sense that "I set my life pathway!"
The fourth principle "Generosity "is associated with young people experiencing opportunities to show respect and concern for others. This reinforces a sense of Altruism and the importance of learning to help and be of service to others, enabling young persons to affirm that "My life has purpose!"
I was particularly taken by the 7 ways offered by Larry Brendtro and John Seita for connecting with "Adult Wary Kids":
1. Touch in Small Ways – I remember the little things you do;
2. Don't Force Closeness – If you crowd me, I'll back away;
3. Meet the Inside Kid – Look beyond my faults to find my needs;
4. Commit to Zero Reject – I am used to people giving up on me;
5. Recruit a Fan Club – I need someone who believes in me;
6. Give Seeds Time to Grow – Please be patient – I am still learning; and
7. Reclaim Cultural and Spiritual Roots -I need to discover my destiny.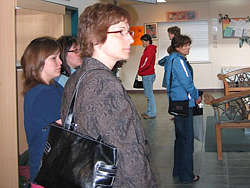 A Family Unit is Used to Host Family Members During Visits
Thank you Ranch Ehrlo Society for bringing us all together to celebrate 40 years of residential caring in the Province of Saskatchewan – and beyond!