postcard from leon fulcher
From Edinburgh
Fare thee well wee bardie. Too short your young life's sentence writ. Ya wee git Thommie; all who kent ye had nowt but good to say. But now you're gone and those whose lives you touched feel the absence ever so deeply. But Thommie has lost his long fight with liver failure, still waiting for the liver transplant that might have made a difference. Those closest to him at the end said he kept his smile and encouraging manner even as they watched him wave farewell. Hello Child and Youth Care friends. I'm back in Edinburgh where the events of 30 years ago feel like yesterday.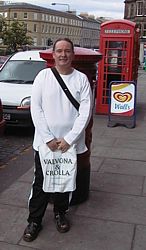 Thommie Buchan, Wee Bard o The Auld Reekie
I first met Thommie when he was 14 and as a so-called maladjusted teenager was admitted to Blackford Brae. He is remembered as a sly but canny character, burdened with emotional pain but always ready to crack a joke or spin a yarn. During that first year we knew him, Thommie was spinning out of control. He had good reasons to be angry, and even more reasons not to trust anyone. School at that time was mostly failure but his guitar communicated in ways few had ever heard. Fear for Thommie's life and about his future sent some in search of boundary setting. A stint in the secure unit at Rossie Farm followed but did little to help Thommie heal. For too long, first barbiturates and then the fuel of trainspotting numbed his emotional pain. Several associates and a girlfriend contracted HIV-AIDS and died from sharing needles.
But somehow, Thommie survived. He began to put his life back together. His music continued and grew ever more confident. Thommie completed a course as a Master Chef, and while it provided work opportunities and fuelled his love for cooking, he hated institutional cooking. And as his health deteriorated after too many years of personal neglect and abuse of alcohol and drugs, Thommie became a welfare beneficiary. Thereafter he devoted his life to helping others, a vocation that continued 'til the end. It was very special for me when Thommie re-entered my life after 30 years. He tracked me down through the internet and one morning, there he was in the e-mail in-box, saying hello and thanking me for having been a good influence in his life. For the past four years, we have maintained regular contact via MSN Messenger.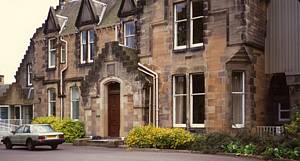 Blackford Brae "A therapeutic community for young people
I'll not soon forget the day Thommie went back to school as a mature student at Edinburgh University. His writing course became a passion and he shared each new assignment, seeking feedback and ideas. Vivid accounts of people watching spoke volumes through Thommie's writings. He was thrilled when his first piece was published (see) by CYC-Online in January and another piece followed in Relational Child and Youth Care Practice soon after. I remember asking Thommie not too long ago if he remembered the day that he attacked me with a meat cleaver. Yes, and he hadn't been in a very good place then. I finally summoned up the courage to ask Thommie after 30 years, what it had been about. His words will echo a lifetime: "I was trying to reach out to you Leon". After disarming him, I had experienced the shakes for more than a week. Thanks Thommie for reaching out, and for all you taught me over the years. You'll be missed. A Man's a Man for all that, or is there for honest poverty.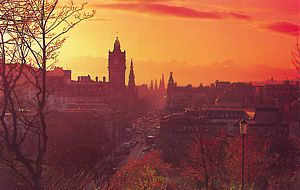 The dawning of a new day in Edinburgh