postcard from leon fulcher
Postcard from Eire
Greetings from the Emerald Isle where good fortune offered a stimulating week in June with residential child and youth care managers from around Ireland, sponsored by the Resident Managers' Association there. The RMA is a key professional body in Ireland promoting quality residential services for children and young people in a country experiencing rapid transformation and change throughout the social care sector. Front-line supervisors and managers were given opportunities to look again at everyday life events in their residential centres and to explore issues with young people – as well as with staff – that promote more responsive practices.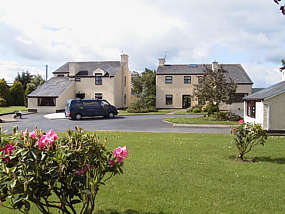 St Bernard's Group Homes Complex at Fethard
Our week began in Dublin before travelling on to Limerick in County Munster, home of that historic win against the New Zealand All Blacks, an event that still lingers in the memories of Irish and New Zealand rugby fans after more than twenty years. In each location, small groups of residence mangers gathered to explore how the duty of care mandate that places children in a residential centre transfers authority from parents and the state to direct care workers, for particular reasons and for specified periods of time. Animated discussion focused around the ways in which staffing rosters are shaped and considering how easy it is for the roster to be shaped by staff needs rather than the needs of kids. Have you ever noticed how children and young people in care frequently know details of the roster even better than the residential care staff whose work lives it shapes! How often does one hear kids asking, "Who's on tonight?" in the hours before shift change? And how often is the answer greeted by enthusiastic anticipation or grumbles? Children in care make very discerning judgements about their carers but it remains a mystery that so little research has been carried out into the impact of staff rostering practices on the quality of residential services. If anyone is looking for an interesting research topic, check out this one!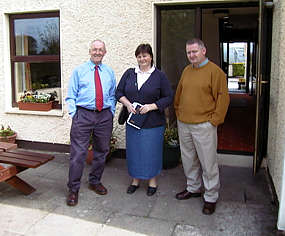 Andy, Eilish and Damien at St Bernard's Group Homes, Fethard
After Limerick, I found myself humming "It's a Long Way to Tipperary" as we travelled on to Fethard where residence managers from Cork, Waterford and the south of Ireland were hosted by St Bernard's Group Homes. Then it was a train ride back to Dublin for a fourth day with residence managers working in the capital region. Considerable interest was shown at each location towards the new recruitment and selection methods used during the past year by Kibble Education and Care Centre in Scotland. Having experienced difficulties with recruiting suitably qualified and experienced male staff to work with young men in care, Kibble tested a new recruitment strategy that received more than 400 applications for 12 youth worker posts. 80 short-listed applicants were invited in groups of 20 to the Kibble E-Learning Centre for a half-day where they engaged with characters from the Images of Practice CD-ROM. Observation and active listening skills required every day in child and youth care work were tested and discussed as part of the formal interview process. Even with psychometric testing, it's easy to assume that prospective workers are good listeners and observers of behaviour or environmental circumstances, and that core skills such as these are tested through traditional interviewing practices. There is a lot to be learned from looking again at daily routines of caring and skills used every day, regardless of where we live and work!