postcard from leon fulcher
From Cleveland
Hello from the Rock n' Roll Capital of the world, host to Together 2000, the first International Child & Youth Care Conference of the new Millennium! 350 traveled to the suburb of Independence, Ohio for a preliminary educators' day as well as the conference proper. Judging from the sound of animated conversations wherever one turned, everyone seemed to make the most of networking opportunities and enjoyed the thought provoking keynote and workshop sessions. I certainly did!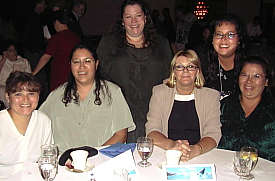 Together 2000 participants Cheryl Whiskeyjack and Shauna Seneca from the Bent Arrow Traditional Healing Society in Alberta; and Laini Lascelles, Shirley Gordon and Dani Earle from the Nimkee Nepigawagan Healing Centre, along with Delores Sturgeon of the Chippewa's of the 1st Nation in Ontario (not in any order!)
There were a handful of international participants, from Norway, England, South Africa, the Netherlands, Australia and New Zealand. While Canada was well represented by participants from almost every Province, I hope they will forgive me for calling this a North American conference instead of an International one. I say that because there were no participants from Mexico, Central or South America. Participants from Europe were not very evident, nor were there delegates from Asia or other parts of Africa, although some participants had links with these regions.
It was a pity that this international gathering missed hearing the voices of child & youth care workers from outside North America because the issues those workers face are important. When one considers that more than two billion people live in China and India alone, and how the plight of children and young people in those countries present major challenges for the rest of the world, the profession can scarcely afford to ignore happenings there. Nor should we overlook events throughout Africa as nations emerge from colonial rule and try to make democracy work. When one remembers how the peoples of Central and South America look to El Norde for economic prosperity, including the mother of Elian Gonzales, it is vital that North American child & youth care workers give active consideration to ways of including these voices at future conferences. Otherwise, we bask in our own ethnocentrism.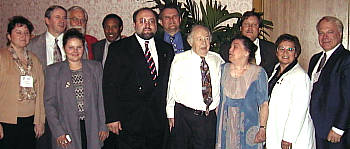 Together 2000 Honouring of Professor Henry Maier
At the closing banquet, a number of special awards were handed out in recognition of important contributions made to the field of child & youth care over the years. A special honour was paid to Professor Henry Maier for lifetime achievements as a mentor and friend of child & youth care workers everywhere. At Together 2000, Henry presented two separate workshops, one at the educators' day and one during the conference proper. All who attended, like me, came away having learned something yet again. It was great to see Henry and Jean again, and to know they remain staunch supporters of child & youth care work! Thank you Henry "from all of us "for a lifetime of inspirational ideas and role modelling!
Special thanks goes to Chip Bonsutto for the post-conference outing to Jacobs Field and a thrilling inter-league baseball game between Cleveland and Cincinnati. 6 home runs; a Cleveland win; great camaraderie; and even fireworks at the end! Yeah Chip!