POSTCARD FROM LEON FULCHER
From Montreal
The 8th International Child and Youth Care Conference theme "Beyond Borders "offered a unique gathering call to the child and youth care tribes with more than 1600 delegates from nearly three dozen countries assembling in Montreal during the third week of October for an event unparalleled in the history of the profession.
Youth drums welcoming delegates at the start of the Conference
As we joined in the events of the Montreal conference I kept thinking of the tribal nature of Child and Youth Care worldwide. While some might have thought of family or extended family principles, the fact was that, with so many delegates, the notion of family just didn't really fit. And then there were the challenges of language. We were in La Belle Quebec – that glorious centre of French Canada – where the musical notes of "parlez Francais" are ever present, alongside Dutch, Scandinavian languages, Afrikaans and of course English. By thinking in tribal terms it was possible to connect even more directly with the many First Nations and Indigenous North Americans who attended this conference, and to feel part of something truly significant. The tribal nature of groupings was also reinforced as college, university and agency representatives – as well as the smokers – clustered together to debrief, review and network.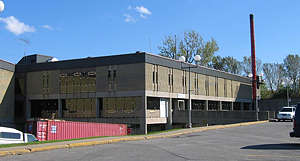 A Pre-Conference visit to Le Cartier Secure Youth Justice Facilities
From the pre-conference workshops on Aggression Replacement Therapy and the Educators Day, to the insightful Keynote presentations, to the myriad of informative practice workshops, the conference became a celebration of a profession coming of age. Whether through home-based services, care provided through group homes and more structured institutions, or after-care services to young people after leaving care – responses from child and youth care workers world-wide shared common goals. All sought to promote resilience amongst young people, to build on personal and family strengths, and to support pro-active decision-making with young people. Beyond Borders was a great theme around which to find common ground and we did just that!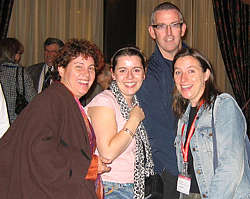 Scots Delegates Laura, Danny and Rhiannon with Child and Youth Care Colleague
Professional questions that left me thinking well after the conference were highlighted through the Special Sessions we attended. The research about social aggression within early adolescent female friendships based on interviews with teenage girls from two intermediate schools was fascinating. The session on research with teenagers who have lost a peer through death dredged up a lot of memories for everyone. The research on short-term crisis intervention with families and young people in Belgium was also thought provoking.

All three sessions – amongst so many others – highlighted a new maturity in our child and youth care profession. If a profession gains recognition through the development of its scholarly traditions and high quality practice research, then what was showcased in Montreal gives child and youth care a great deal to celebrate. A new generation of child and youth care leaders are pushing the boundaries of acquired knowledge in the field! Three cheers for that!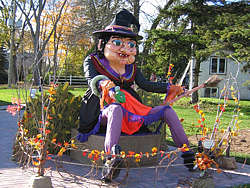 Autumn colours and Halloween decorations were everywhere!
There were reminders, too, of Henry Maier's teachings about the importance of play!