POSTCARD FROM LEON FULCHER
Postcard from Green Mubazzara, UAE
It is said there are two seasons in the United Arab Emirates: the hot season and the hellishly hot season. August falls into the hellishly hot season, when temperatures soar almost always above 40 degrees C (104 degrees F) and there are times when temperatures soar to more than 48 degrees C (118 degrees F). At times like this, most people stay indoors huddled near the air conditioning.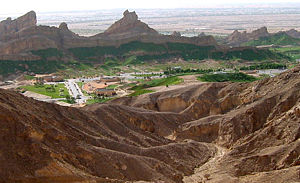 Green Mubazzara – Oasis of Green at the foot of Jebel Hafeet
Towards the end of the day, however, many families venture out of their home compounds and travel to Green Mubazzara, a park artificially created at the base of Jebel Hafeet, the UAe's highest mountain. Green Mubazzara has been created by pumping thousands of gallons of water onto the desert, turning the northwestern base of the mountain into one of the world's most unusual parks. The greening of the desert plus the continuing sprays of water make this a relatively cool place for families to go at the end of their summer days. One dare not think about the cost of using desalinated water pumped from the Arabian Gulf and piped more than a hundred kilometres into the desert to this place near the so-called "empty quarter".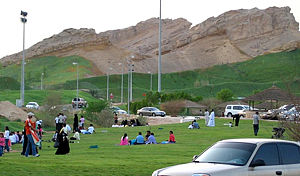 Families come to Green Mubazzara in the cool of the evening
As we stood looking down from the top of Jebel Hafeet, I kept thinking about how much children, young people and families the world over use parks for play and recreation. Families organize picnics, play with frisbees or balls of various sizes, and sit around talking and laughing virtually everywhere I've been. Here in the desert, however, there are no dogs because dogs are not part of Islamic family life. Instead, families turn to the hot pool houses (separate facilities for males and females) where people wash away the accumulated dust of the day. They also paddle (otherwise known as soaking their feet) in the thermally heated water flowing along falaj (concrete stream beds) from artesian sources and into the pool houses.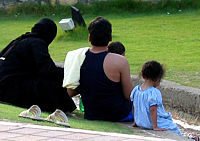 Family enjoying one of the heated falaj streams
Such images of Emirati and ex-patriot children, young people and their families seeking recreation at this unique park in the cool of the day offered a fitting end to our three years of working and living in the United Arab Emirates. This is but one of many artificial environments in a desert place transformed from its original state in scarcely 30 years. Many will have seen images of the indoor snowboarding slope at one of Dubai's newest shopping malls. Others will have seen news items about the world's only 7-star hotels – located in Dubai and Abu Dhabi. In so many ways, this is a country on the move, with high quality motorways, world class horse racing stables, and 25 percent of the world's construction cranes.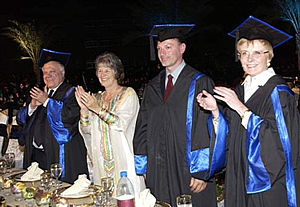 Honouring UAEU graduates and giving our farewell
As we leave, however, it will be difficult to forget the 15 girls punished last year with permanent dismissal from the UAE University after being found with mobile phones with cameras in their hostels. Little acknowledgement was given to the possibility that teenagers can learn from their mistakes, nor that two-thirds of these girls had not misused their mobile phones. Traditions of punishment for behaviour such as a suicide attempt make Child and Youth Care work in the UAE very different from Western practices. Changing such practices will take a very long time indeed. I hope someday they will learn about forgiveness. Until then, shedding of tears will continue.