postcard from leon fulcher
From the Omani Town of Niswa
Warm greetings again from Oman! We've been continuing to explore historic sites in the northern region of this beautiful country and there are so many sights and sounds itís hard to know where to begin telling you about the place. Living near the border of Oman on the eastern border of the UAE makes it so easy to carry on our explorations! On our way to the principal town of Niswa near the turn off to the cliff village of Misfat Al Abryeen, we were caught up in a roadblock. Leaving our car and working our way up the street on foot, it soon became apparent what was causing the hold-up. The village boys and young men were all lined up for a road race.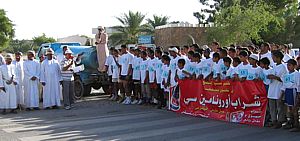 Omani youths waiting for the signal to start their race
As I watched these boys prepare for their race, I couldnít help but notice their footwear. Some were preparing to run the 5 km race in sandals. Others were wearing soccer boots with studs, even though preparing to run on the street. Others had more suitable track shoes. But all had lined up for the race. It made me think of kids Iíve been with in child and youth care. Most are keen to join in whether they have the right gear or not. Many have no idea about whether they can run the complete race but never stop to think about it. This was confirmed later as we continued on towards Niswa. All along the way we found boys Ė young and older Ė walking, limping, or slumped panting on the ground in groups while others continued jogging at variable pace, clearly determined to finish their race. It reminded me how each kid with whom we work usually finds their own personal rhythm and performance routine.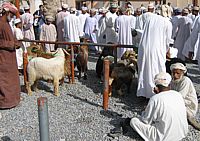 The Friday morning Souk at Niswa is a buzz of activity
The Niswa Friday Morning Souk was a highlight of the trip and something quite extraordinary. A souk is basically a public market only itís unlike any supermarket or shopping mall you've ever seen. The Niswa souk offered buyers every imaginable kind of animal or beast. Then there were the vegetable and fruit merchants, the dried and fresh fish merchants, and the spice merchants. Next one came to the jewellery, the pottery, the antiques, the old guns and knives, the baskets, the trunks, and the list went on and on. I know I'll go back! The variety of wares was so enticing.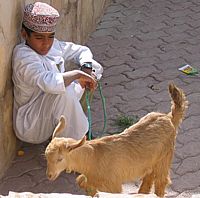 Two kids enjoying a special bond of friendship
Once again, the souk experience made me think of child and youth care. There is rarely time to feel bored, not if one remains alert and pays attention to all thatís going on. Each young person ďlike the souk merchants have something special thatís worthy of attention. There is almost always more than one person around just to add some spice and potential distraction to the theatre and drama of events. The action, sounds and smells are ever-present. Commonly there are bits of rubbish strewn about reminding of past events or savoured moments discarded in favour of present distractions. Younger people are more often than not with younger people while adults people are with other adults. Here and there the pattern alters, but only briefly. Itís something about staying with our own. Whether at the Niswa souk, or the souk in your town, why not give yourself a morning or afternoon to go people watching again? There is so much to learn. But if you ever get a chance to visit Oman, do it!