postcard from leon fulcher
My last postcard from Abu Dhabi
It's hard to believe that a whole academic year has come and gone at Zayed University in Abu Dhabi since arriving in August. Time has flown by so quickly. As we prepare to leave the desert heat and sands before heading on to greener fields elsewhere, I want to share some reflections learned from working in a women's university in this rapidly changing Arab world where I've lived for the past ten months. There are many misconceptions about the social issues faced by young Arab women in the world today. Those working in child and youth care may be asked to work with Arab families and should give some thought to what they know about Islamic peoples and the special obligations this culture places on women.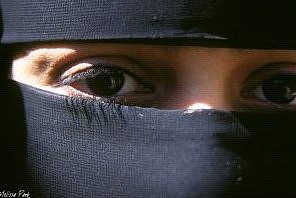 Appearances can be deceiving behind the Hijab!
The Prophet Mohamed (PBUH) is said to have told his followers that those who have daughters will be given a special place in paradise. Whether three daughters or two, Islamic teachings accord a special place for girls and young women, just as it does for older women. As young children, girls grow up playing freely with their brothers and attend co-educational schools. But by the age of 12, girls and boys are streamed separately through puberty and adolescence. The idea of purdah or covering of the head, face and body has been seen by many Westerners as a sign of the male oppression of women. Within the culture, however, this is not the case. It is about the protection and cherishing of women, allowing them freedom of movement and degrees of anonymity quite different from young Western women. While media and school influences exploit themes of budding sexuality and stereotypical images of Western women, such themes – while present – are handled quite differently in the United Arab Emirates where arranged marriages are still the norm. Dating in the traditional Western sense is not practised here. Prospective brides and grooms will not have seen each other before the end of their wedding ceremonies. And it may come as a surprise to learn that divorce rates are scarcely different from those found in most Western countries.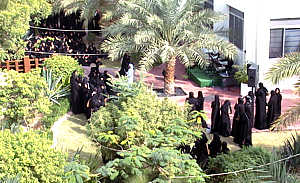 Three-quarters of UAE University students are women!
It is particularly interesting to note how young women are substantially over-represented in tertiary-level colleges and university education. Over seventy percent of the 16,000 students at the University of the United Arab Emirates – the country's oldest national university – are women! Zayed University, with campuses in both Abu Dhabi and Dubai, is also an all-women's university. A significant cultural revolution is happening in this country, as reflected in such statistics. Like elsewhere, women are being permitted to pursue a range of educational careers, and are excelling well beyond the standards achieved by male students. University classes are often in single gender groups where women's ways of working can be reinforced. It is interesting to note Western research on educational achievement amongst female students showing there are good reasons for providing women with opportunities to study in single-sex environments where they have strong role models and mentoring – from both female and male teachers – without the "distractions" posed by male students. Equality of the sexes does not necessarily mean treating young men and women the same.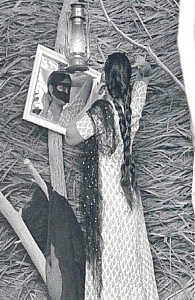 Coming of age means putting on the burkah
I shall remember the laughter and active exchanges of ideas in the classroom that have marked my teaching experiences over the past year. Learning to recognise young women by voice, by their eyes and by the way they carry their shoulders will be another memory. I have a new found respect for those women whose heads, faces, hands and feet remain covered in the presence of men, or anyone outside their immediate families. I'll think again and again about what it means to take someone's photograph and the potential shame it might bring. I support the collective hopes of Arab peoples throughout the Gulf region and thank the young women of Zayed University for all they have taught me.