postcard from leon fulcher
From the United Nations
Hi! What were your most enduring memories of the United Nations Special Session on Children convened 8-10 May 2002? Do you have any? For some it will be the September 11 2001 suicide bombing attacks in the US that postponed the Special Session on Children due to begin in New York a week after those disasters. The re-convened Special Session began with a Children's Forum running 4-7 May.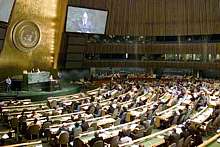 The Postponed UN Special Session on Children, 8-10 May 2002
The starting point for this UN Special Session on Children was the 1990 World Summit on Children. There, world leaders made a joint commitment and issued an urgent, universal appeal to give every child a better future. Eleven or more years later, what has changed? Those interested in exploring this question at an international level are referred to the website at www.unicef.org/specialsession. A pdf reader file of the UN Secretary-General's report "We the Children" can be accessed at http://www.unicef.org/specialsession/about/sg-report.htm.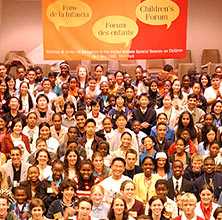 A United Nations Children's Forum ran 4-7 May 2002
Sadly, there were a lot of politics in the back rooms and corridors around this UN Special Session on Children, even as children themselves made a distinctive contribution to the proceedings. Check out the website at http://www.ngosatunicef.org/index.html and On the Record for Children for accounts of the real politik and political manoeuvring behind the unofficial Outcome Statement approved on 10 May 2002 by the Special Session of the General Assembly on Children. The unofficial advance unedited version of the Outcome Statement A World Fit for Children was available at www.unicef.org/specialsession from 15 May.
The Heads of State and Government and representatives of States participating in the Special Session on Children were determined to "seize this historic opportunity to change the world for and with children – every human being below the age of 18 years, including adolescents. We recognize and support parents and families or, as the case may be, legal guardians as the primary caretakers of children, and we will strengthen their capacity to provide the optimum care, nurturing and protection".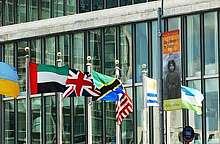 The Agenda was about Children at the UN Special Session in May
Members of society were called upon to join in a global movement building a world fit for children through commitments to 10 principles and objectives: (1) Put children first; (2) Eradicate poverty: invest in children; (3) Leave no child behind; (4) Care for every child; (5) Educate every child; (6) Protect children from harm and exploitation; (7) Protect children from war; (8) Combat HIV/AIDS; (9) Listen to children and ensure their participation; and (10) Protect the Earth for children.
Implementation of this UN Declaration and Plan of Action for Children requires "not only renewed political will, but also the mobilization and allocation of additional resources at both the national and international levels, taking into account the urgency and gravity of the special needs of children." How many see increased resources available to implement this Action Plan in their town or community? Who said children weren't about politics and economics?