postcard from leon fulcher
From Wales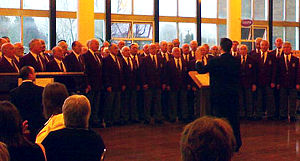 At Cardiff Train Station outside the Millennium Stadium
Bore da (Boreh da) – Good morning; Noswaith dda (Nos-waith tha) – Good evening; Shwmae (Shw-mai) – Hello! From Wales, or to be more precise, South Wales. I have a much better idea now of why the early Australians decided to call their ocean coast line New South Wales. The train ride from Cardiff to Swansea highlighted coastal similarities of many kinds. Travellers are taught to quickly acknowledge differences between South Wales and North Wales. I knew that Welsh male voice choirs were amazing and the one I heard at the annual conference of the British Association of Student Resident Accommodation was indeed superb. Having previously travelled through North Wales and down the coast to Aberystwyth, it was nice to visit the seaport town of Swansea for the first time.
Affirmative Demonstrations by Bristol Rovers F. C. Supporters
I arrived at Cardiff Airport on a Sunday afternoon, meaning the bus ride into the city centre was fraught by bus delays and a football match between Doncaster and Bristol Rovers. Football supporters snarled all traffic. My "lost traveller" persona gained safe passage through the battalion of security personnel "managing" the hordes of football supporters. Soon I was on the train for Swansea and caught up with other student housing professionals making their way to the University of Swansea.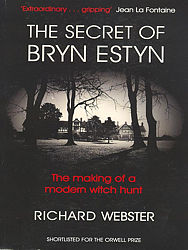 The Secret of Bryn Estyn: The Making of a Modern Witch Hunt
I had been reading about rumours that began circulating in North Wales in 1991 about a home for adolescent boys on the outskirts of Wrexham – called Bryn Estyn – that was the centre of a paedophile ring. A massive police investigation was launched which, over the next ten years, spread to care homes throughout Britain. Thousands were accused, hundreds were arrested, and the prisons began to fill up with convicted care workers. Was Britain facing up to a horrifying reality or had a witch-hunt been unleashed, incapable of discriminating between the guilty an the innocent? Thus reads the back cover of next Semester's recommended read: Webster, R. (2006) The secret of Bryn Estyn: The making of a modern witch hunt. Oxford: The Orwell Press. The book has been written with a forensic capacity rarely shown capturing the interpersonal worlds and staff intrigue that goes on within some residential care teams. Outcomes associated with their engagements with young people are captured in a way rarely seen. I recommend this book to anyone willing to look behind the veil of secrecy that sometimes shields the public from what can happen in residential care centres or schools. Only daily vigilance and personal commitments ensure otherwise. Short-listed for The Orwell Prize, given annually to writing that makes politics and political thought accessible, Webster faced many legal challenges to publication.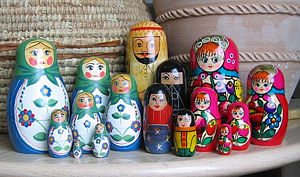 A Gathering of Matruska Dolls Celebrating 100 Issues!
A last thought: We were asked to think about 100s in celebration of the 100th issue of CYC-Online! Right off I thought about young people following the Cricket World Cup taking place in the West Indies. Centuries (scores of 100 or more) by Australia and Sri Lanka have once again foiled the aspirations of New Zealand and South Africa of making the Cup Final. 3 cheers too for the Scouting movement celebrating its 100th birthday this year! Here's hoping you enjoy a 100th something this month!