postcard from leon fulcher
From the Middle East
Each month for the past 5 years I've been sending a Postcard highlighting images of children, young people and their families from different parts of the world. It's funny how May became my Postcard anniversary date since it coincides with International Child & Youth Care week. So every year when we pause to reflect on the many tasks of caring and child and youth care work, I am struck yet again about how big the world is and how the work we do is truly international! This year the organisers of the New Brunswick Child & Youth Care Conference asked if I might prepare a few PowerPoint slides to share with Miramichi delegates that capture the international flavour of child and youth care work. I share three of those images here that spoke personally to me during International Child & Youth Care week.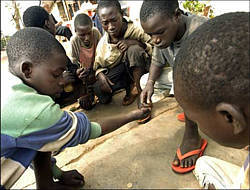 To be Reminded of Children & Youths Living in Poverty
As temperatures soar beyond 100 degrees Fahrenheit here in the Middle East, with prospects of 120 degrees F or 47 degrees C in the next few weeks, there is much here about which to feel anxiety as life continues to unfold across Israel, Palestine, Saudi Arabia, Iraq, Afghanistan and Pakistan. Having lived and worked here for almost a year now, I continue to feel troubled by the extent to which world leaders seem incapable of listening to voices of reason, or voices with informed knowledge about cultural practices and processes that operate in this part of the world. Does anybody care that the second largest military force operating in Iraq is now made up of hired mercenaries "conveniently reclassified as private security personnel – earning as much as $1000 US per day?! Does anybody actually care that water supplies and utilities are still not operational in large areas of Afghanistan or many parts of Iraq or that ordinary children and families are the ones suffering in those places? Do those living in the West have any comprehension of what it means to their own safety and security when the American President accepted Prime Minister Sharon's plan for the future of Israel?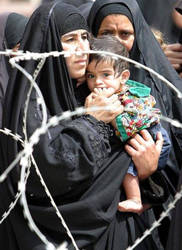 A Time to Remember Victims of War
Have you ever wondered why images of children and young people are almost always seen in the middle of the action in the West Bank city of Ramala, or in the Gaza refugee camps, or the Shiite Holy City of Najat, or the former Taliban stronghold of Kandahar? In those places children learn particular stories and cultural histories of their people from an early age and are taught never to forget who they are and where their people belong. The interpretations of history these kids have are so very different from those reported in the Western media. People living in the West simply have to become better listeners of those stories and not just dictators of how people in the rest of the world should live. For the past 12 weeks, I have been trying to facilitate international dialogue between my Emirati university students here in the UAE with young women from Canada and the US working in the child and youth care field. For awhile, there was very little communication. Gradually, both sets of international pen pals have started learning how to listen and exchange information in a totally different manner. Thanks to the efforts of both groups, things are now starting to happen and its fun!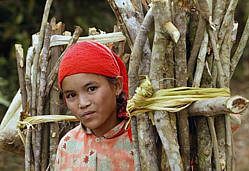 A Time to Remember Child Labour Practices
Lest we forget, children in many parts of the world have few options for schooling and must start working to support themselves or family members. They work long hours for little pay. I hope we will think of all these children and those who work with them during International Child & Youth Care Week. Western kids may be troubled but they're also comparatively well off in terms of shelter, basic human needs, relatively peaceful communities and able to pursue educational opportunities other kids can never hope to attain.