postcard from leon fulcher
From Wellington
Hi! This month we've spent a lot of time opposite New Zealand's Capital City Beehive and Parliament Buildings. That's where Government sits after national elections held every three years. These Crown Buildings overlook the High Court of New Zealand. Another important Child and Youth Care trial started there last month before Justice Smellie, as reported in the Dominion newspaper for April 30.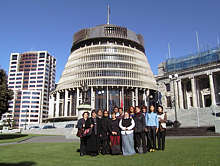 Certificate in Social Services Students, New Zealand Institute of Training
"A woman suing the state for abuse she suffered as a state ward was told she would never see her parents again if she told anyone, the High Court at Wellington heard yesterday. The 43-year-old mother is suing the Attorney General on behalf of the Social Welfare Department for $450,000 in compensation and exemplary damages. Her lawyer has told the court that W, who was placed in various foster families in the Hauraki Plains after being removed from her family in 1970, was sexually abused in the first home, and psychologically and emotionally abused in two homes. The foster father from the first home was later jailed for abusing other children in his care, and one of his sons was sentenced to periodic detention. The lawyer said W was psychologically and emotionally abused by the sustained denigration of her family, herself and indirectly her culture. She had suffered such psychological harm that 31 years later she was seriously incapacitated."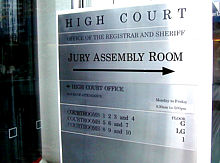 High Court of New Zealand, Wellington Registry
The Attorney General has denied the allegations and has said that if W was abused, the State should not be liable because of the Limitations Act (that assumes someone will work out the effects of child sexual abuse within 8 years after turning age 20). If not that then the State should not be liable because of the Accident Compensation and Rehabilitation Insurance legislation (that assumes if someone receives counselling or compensation for abuse then they cannot take legal action). Or, if W had been abused and the State was liable, then W herself should be responsible for the damage because she did not seek treatment earlier.
The woman's voice broke yesterday as she described the day she was taken from her family at age 11 as the worst thing in her life. Under cross-examination, the Crown lawyer focused his questioning on numerous reports written on the children by social welfare, health and education officials. The sexual abuse she suffered in the first foster home began within days of being put there, with the man telling her she was the "best of the welfare kids" and very pretty, saying she would not see her parents again if she "told".
You might be interested to learn that W and her 8 siblings were Maori kids who were placed in European foster homes, a fact that was curiously omitted from the newspaper report. The case continues".
Pretty depressing, really. I salute the very determined and gutsy performance by W for making it through two days in the witness stand under tedious cross-examination. Why can't there be a Truth and Reconciliation process? Legalese for the month: "It is no more than a potentially damaging innuendo"!