postcard from leon fulcher
Puau-te-Ata-tu a Tuhoe (Daybreak for the Children of the Mist)
Kia ora te whanau o awhi tamariki e rangitahi! Hello from Te Urewera, that wild and untamed part of New Zealand's North Island. I send my warmest greetings to the extended family of child and youth care workers, wherever you are!
This month I have spent a few days near New Zealand's Urewera National Park, a highly recommended tourist destination. Offering superb views of native bush and the lake, with huts situated at timely intervals, the Lake Waikaremoana Track takes 4-7 days to walk and is a must for any child and youth care workers visiting New Zealand.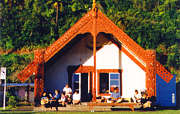 Te Waimako Marae, Lake Waikaremoana, Central North Island
I just happened to be at Te Waimako Marae again at the end of March where I witnessed the signing of a contract between 2 representatives of the Crown (both women) and representatives (almost all of whom were women) of the five major population sites of the Ngai Tuhoe people. On 18 May, the Minister of the Crown for Maori Affairs will perform the official signing ceremony for Puao-te-Ata-tu a Tuhoe at Ruatahuna in the heart of the traditional homelands of The Children of the Mist.
Te Ahi Kaa Roa Project or Strengthening the Home Fires is important for the way it is developed around five traditional Centres of Knowledge. One Centre of Knowledge focuses on Health and Spiritual Wellness. A second focuses on Development of Children and Youth. A third Centre focuses on the Protection and Maintenance of Te Reo me Nga Tikanga or language and traditional practices. A fourth Centre of Knowledge will focus on Education and Training, while the fifth Centre will focus on Developing Tribal Sanctuaries for men, women, families and young people. For the first time since being recognised as a tribal group by the New Zealand Government back at the time of World War I, the Ngai Tuhoe people will be resourced to develop their own services for their own people. Until now, the Ngai Tuhoe tribe has been "serviced" by state departments administered from four different regional offices located well outside tribal boundaries. Daybreak for the Children of the Mist is concerned with using resources in a different way to address the social services needs of peoples living within their tribal boundaries. These are people identified in all research profiles as experiencing adverse social indicators associated with poverty, such as poor housing, unemployment, lower educational achievement, higher mortality rates, etc.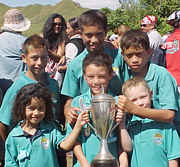 Winners of the Regional Primary School Kapahaka Competition
As Maori take pro-active steps throughout New Zealand to preserve and celebrate their culture, so there is hope that a new generation of Maori children and young people will benefit from a stronger sense of identity and self-esteem. I know how hard the primary school kids and families in my second photo worked with their kapahaka or Maori performing arts group to win the regional cup. These kids from a Maori language immersion or Kura Kaupapa Maori primary school were very proud of their achievements. Good luck to Puao-te-Ata-tu a Tuhoe! The futures for a new generation of children are in their hands. And good luck to you in your efforts with the children or young people. Their futures depend a lot on you!