postcard from leon fulcher
From New Zealand's Te Urewere
Hello from Ruatahuna in the middle of New Zealand's Central North Island. My plan had been for this month's postcard to come from Southeast Asia but that changed when I learned about the passing of an old friend and mentor. I came to pay respects to the family and tribe of Ngai Tuhoe elder Whitu Waiariki whose picture featured in my March postcard. His passing weighed heavily on the Ngai Tuhoe people for the loss of someone who offered spiritual guidance and care to his people.
Koro Whitu and his life-long friend Tio Takuta who died last year, both had a significant influence in my life and the lives of Victoria University students over the past fourteen years. Both men left New Zealand as teenage warriors of the famous Maori Brigade to fight the Axis forces in Italy during the Second World War and were amongst the few to return after the brutalizing experiences of war. While the physical scars healed, the social and emotional impact of war had a dramatic effect on Maori communities throughout New Zealand.
I met these two Koroua through their fellow tribesman and national Maori leader John Rangihau whose landmark Puao-te-Ata-tu (Daybreak) Report to government led to significant reforms and a Maori perspective in the delivery of child, youth and family services in New Zealand, including the introduction of Family Group Conferences. That Report resulted in far-reaching changes in the delivery of child and youth care services and in the training of social workers. For more than a decade, these elders supported the professional education and training of social workers at Victoria University, ensuring cultural safety and offering guidance on cross-cultural practice.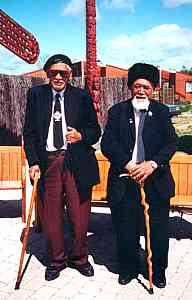 Ngai Tuhoe Elders Tio Takuta and Whitu Waiariki
In 1986, Victoria became the first New Zealand university to establish a centre for Maori learning with the opening of Te Herenga Waka Marae. This environment with a name that means "the place for mooring many canoes" provides a venue for all New Zealanders to engage in cross-cultural learning during their university education. Koro Whitu and Koro Tio gave unselfishly of their time and knowledge to at least ten cohorts of Victoria Social Work graduates, both in the training environment of an urban university marae and through inviting students and staff to visit traditional communities where Maori language remains the mother tongue for all generations.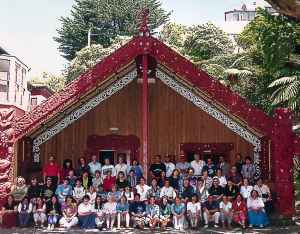 Victoria University Social Work Students and Staff at Te Herenga Waka Marae
The passing of Koro Whitu and Koro Tio represents a symbolic end of an era in New Zealand social work education. The dynamics of institutional racism, so clearly documented in the Puao-te-Ata-tu Report, remain active amongst traditional academics and university administrators whose limited cross-cultural awareness determines that indigenous knowledge has little place in traditional university courses. The new university administrators reinforce Western knowledge, viewing culture as an exotic interest for display in museums, art galleries and at graduation ceremonies.
Tihei Mauri tupu Mauri ki te wheiao ki te ao marama. Tihei Mauri Ora! Thank you Koro Whitu and Koro Tio for the differences you made in the lives and practices of so many New Zealand social workers, including me.